Saturday - San Candido to the Drei Schuster Hutte
Our route (the BLUE line) compared to the On Foot Holidays suggested route (the RED line). The numbers are where the photos were taken (approximately!).The letter A marks where we had our lunchtime incident.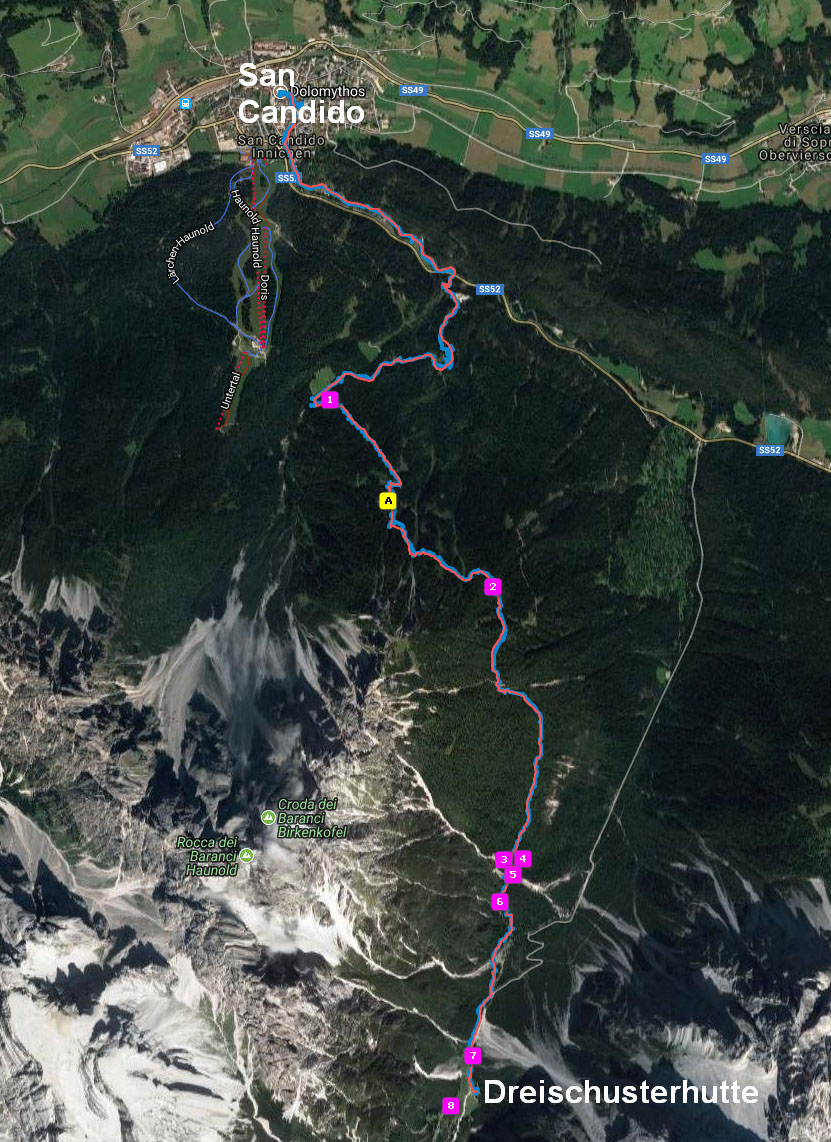 It was with some reluctance that we left the Post Hotel. It had been a very pleasant stay and we were faced with an overnight stay in a mountain hut. Were we moving from the sublime to the Spartan? On Foot were going to move our stuff to Sunday nights hotel in Misurina; we had to carry our overnight stuff with us.
Before us we had a nice walk through pleasant woods with magnificent scenery. It was mostly uphill but was easy walking. Following our route was easy as I had saved On Foots GPS routes on my GPS. If we moved off the route it soon became apparent.
We stopped for lunch at a hut with a couple of outside tables. A notice said it was private but another said to tidy up after ourselves so we thought it would be OK to eat at the tables. As we were setting off after eating, a couple, whom we assume to be the owners, turned up and were not best pleased at us eating on their table. That is all that happened but it was the only unpleasantness we encountered.
Photo 2:- Walking through the woods and looking at the wild flowers. I am told this is an Alpine Azalea.
Photo 3:- Walking through the woods and coming across wonderful views of towering, precipitous peaks.
When we reached the refuge our forebodings proved mistaken - I have stayed in hotels much, much worse than the Drei Schuster Hutte!
It proved to be a large friendly place. Each couple got a room to themselves. We did have to share toilets and shower rooms but we did have a washbasin in the rooms. A lot of people were in dormitories - we were obviously the pampered people.
The food was rather good, designed for mountaineers appetites. As you might expect, choice was limited, but that was not a problem. The bar was good and the beds comfortable - what more could you ask for! The photo of the refuge was taken the next day but it fits in better with today's report.
All of this days photos can be found HERE.
And here are today's distances walked and heights climbed.
| Saturday | Distance | Height Gained |
| --- | --- | --- |
| On Foot's Figures | 11km | 860m |
| My GPS | 15km | 898m |
Introduction
Friday - San Candido Circuit
Saturday - San Candido to Rifugio
Sunday - Rifugio to Misurina
Monday - Tre Cime Circuit
Other Stuff