Dinosaur National Monument lies on the eastern margin of the Uinta Mts, which is a basement cored fault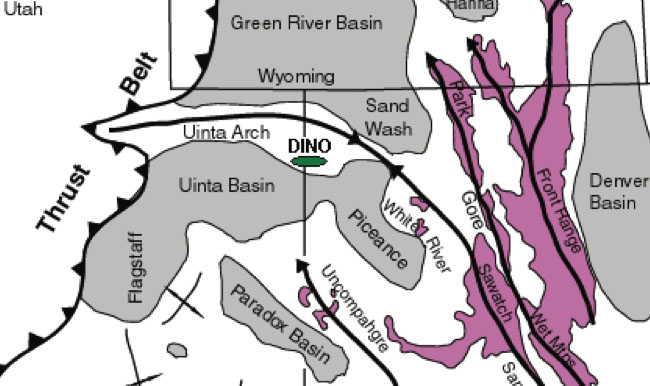 uplift. The Palaeozoic – Mesozoic rocks of the area have been folded into an E-W trending anticlinal structure that plunges west in the region of the Dinosaur quarry. The anticline has been deeply dissected by the Green River, thus giving rise to the name of Split Mountain. The anticlinal core exposes Mississippian rocks surround by successive envelopes of Permian, Triassic, Jurassic and Cretaceous rocks. The dinosaur quarry lies on the southern limb of the anticline with the sequences dipping steeply south. The main unit is which most of the dinosaur remains are found, and the site of the quarry is the Jurassic Morrison Fm.
​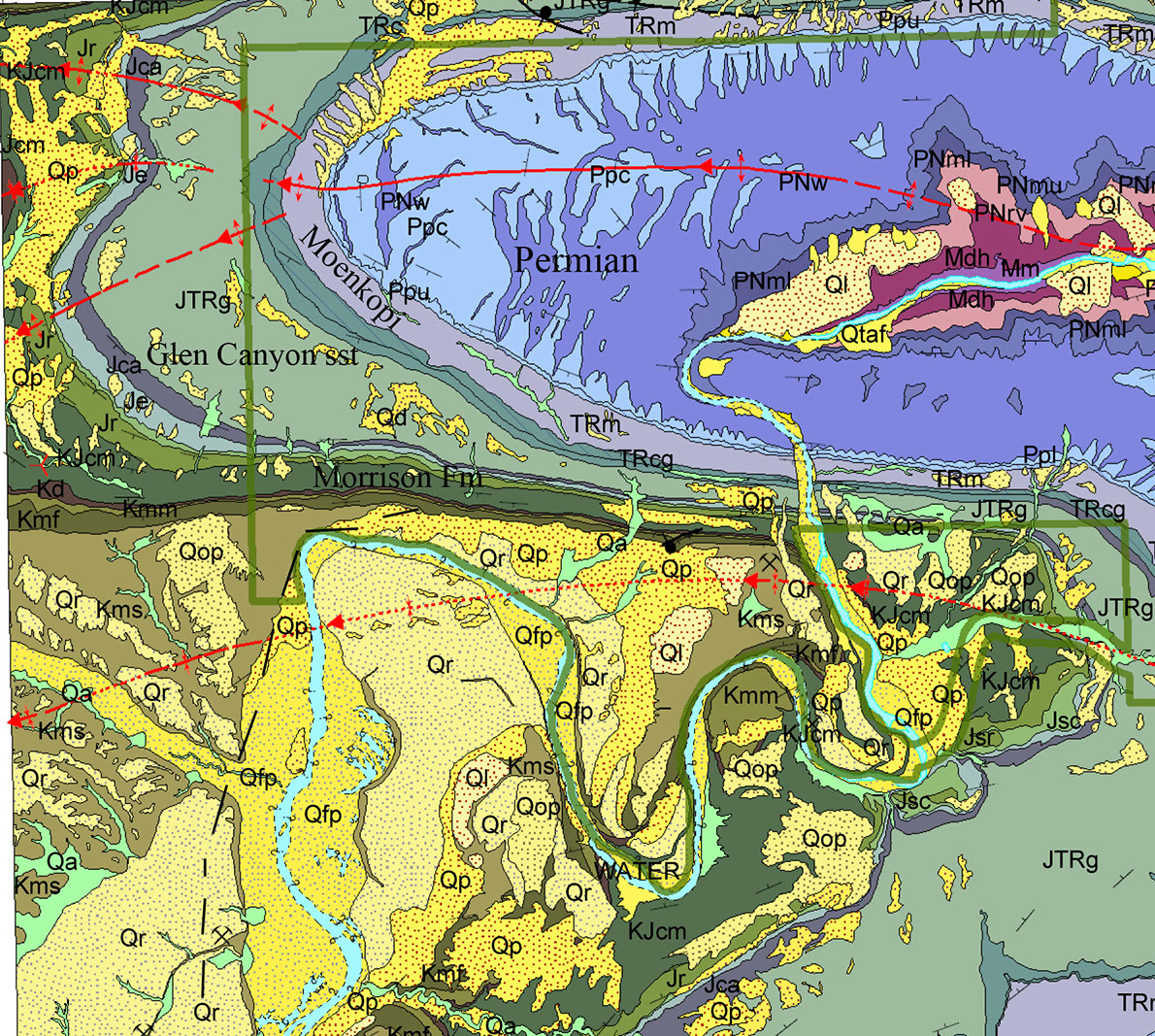 The Discovery trail gives a good section from the mid-Jurassic, Stump Formation through to the mid-Cretaceous Frontier sandstone. The trail can be accessed from the Dinosaur quarry and leads back to the Visitor centre and is about 1 mile. The trail crosses steeply dipping sequences on the southern limb of the Split Mountain anticline. The oldest unit on the trail is the Jurassic Stump Formation, a marine silt and shale deposit rich in molluscs.
This is followed by the thick Morrison Formation, which is the dinosaur-bearing unit in the quarry. It represents a very variable semi-arid, subaerial environment with fluvial, lacustrine and saline lake deposits with abundant bentonite units formed from volcanic air-fall material. There is a short eastward spur off the main trail along the main sandstone in the Morrison in which dinosaur material is in situ.
The Morrison is followed by the Cedar Mountain Formation, which again represents a varied sub-aerial environment with conglomerate, sandstone, siltstone and claystone. There is an unconformity (20 Ma gap) between the underlying Morrison and the Cedar Mountain, marked by a calcrete surface. The next unit is the clear ridge of the Dakota sandstone, which is a transgressive/regressive setting of marine and sub-aerial deposits. The silvery grey Mowry unit follows, which is a shallow marine deposit rich in clay from volcanic air fall. It is also rich in disarticulated fish bones and scales. The final unit on the trail is the Frontier sandstone, a shallow marine regressive deposit.
A rather nice geological map of the Monument can be downloaded in PDF format HERE.