Introduction
When this tour was advertised in the GA Magazine two things struck my attention - Morocco and trilobites!
The original advert was:-
Morocco
Leaders Dave Martill and Mohammed Segaoui
2 – 10 April, 2018
Morocco is fast becoming a superb venue for geological trips. On this proposed trip a number of outstanding fossil localities will be visited where a range of fossils including trilobites, cephalopods, dinosaurs and reptiles have been found. A journey through the Atlas mountains, classical desert scenery of the Sahara and a possible visit to an area of phosphate deposits are among other aspects that will enhance the variety of this exciting field trip.
Register serious interest with Sarah in the office by
email or phone.
April in Morocco seemed a very good idea after a never ending winter and spring. And trilobites have always been a favourite fossil - not as big and awkward as a dinosaur and I am much more likely to find one. And I found Richard Fortey's Trilobite! book a great read. My wife thought sunshine, warmth, the desert and Marakech sounded good, so we booked immediately.
Overview
The trip started at a hotel in Marakech from where we would travel in mini buses, over the High Atlas, to the south east of Morocco, returning to the hotel in Marakech 8 days later. It was up to us to arrange our flights. We decided to fly to Morocco a day early and to fly back a day later. And we would stay in a Riad on our return to Marakech.
The map below gives some idea of where we went. And what we did each day is described on a separate page accessed via the orange buttons.
I took many photographs on the trip and many are used in these pages. You can see all of them HERE.
​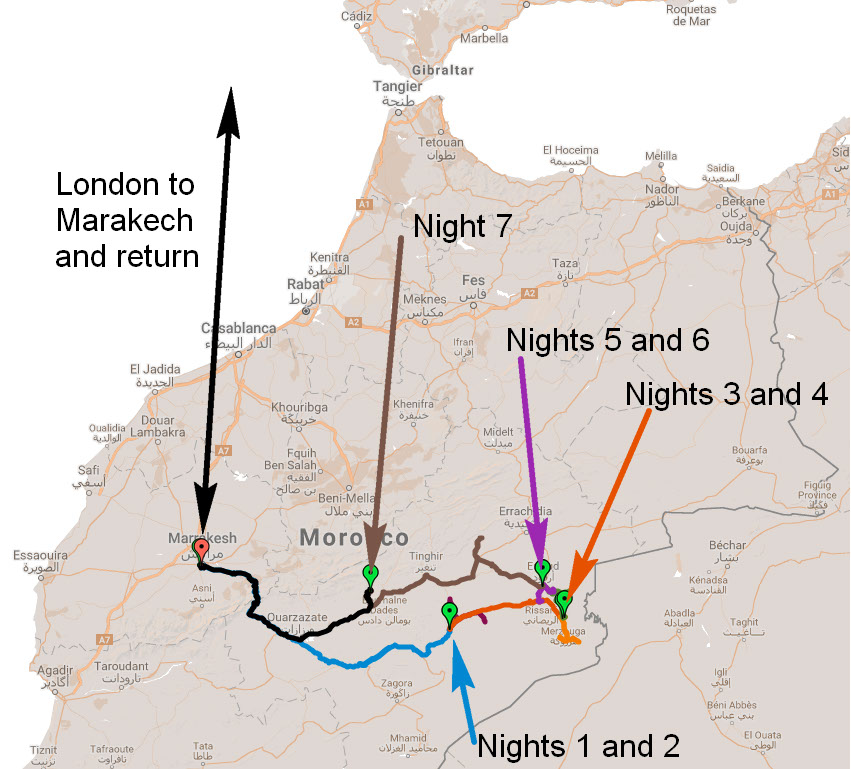 Our leaders were Prof. Dave Martill from Portsmouth and Mohammed Segaoui of Morocco Geo-Travel - pictured below.
​
Dave had written a handbook and I have copied much of it. The pieces appropriate to a days activities appears in a sub-page attached to the page for that day. An introductory one appears HERE.
The Geological Background - Where to find It.
The introduction and Itinerary
Kem Kem Beds and their fossils
Limestone above the Kem Kem and the Akrabou Formation