We are back in Perth after eight weeks in the bush and after driving 13,409 km! That's 8,332 miles! And that is more than we did in our car in all of last year.
"We" are me, Graeme Churchard , and my wife, Chris. And, for part of the time, we should include two old pals of mine, from university days, John Bunting and Julie Ferguson. They came with us for the first week to introduce us to the joys of bush life; the bushcraft, the driving, the camping and the cooking. 
In particular, John gave us much of our camping equipment – tent, swags, cooking equipment and, thankfully, not needed, a satellite phone. He also arranged our transport – a Toyota Landcruiser Prado, permanent 4 wheel drive, 3 litre diesel, 150 litre tank, 2 spare tyres, CB radio.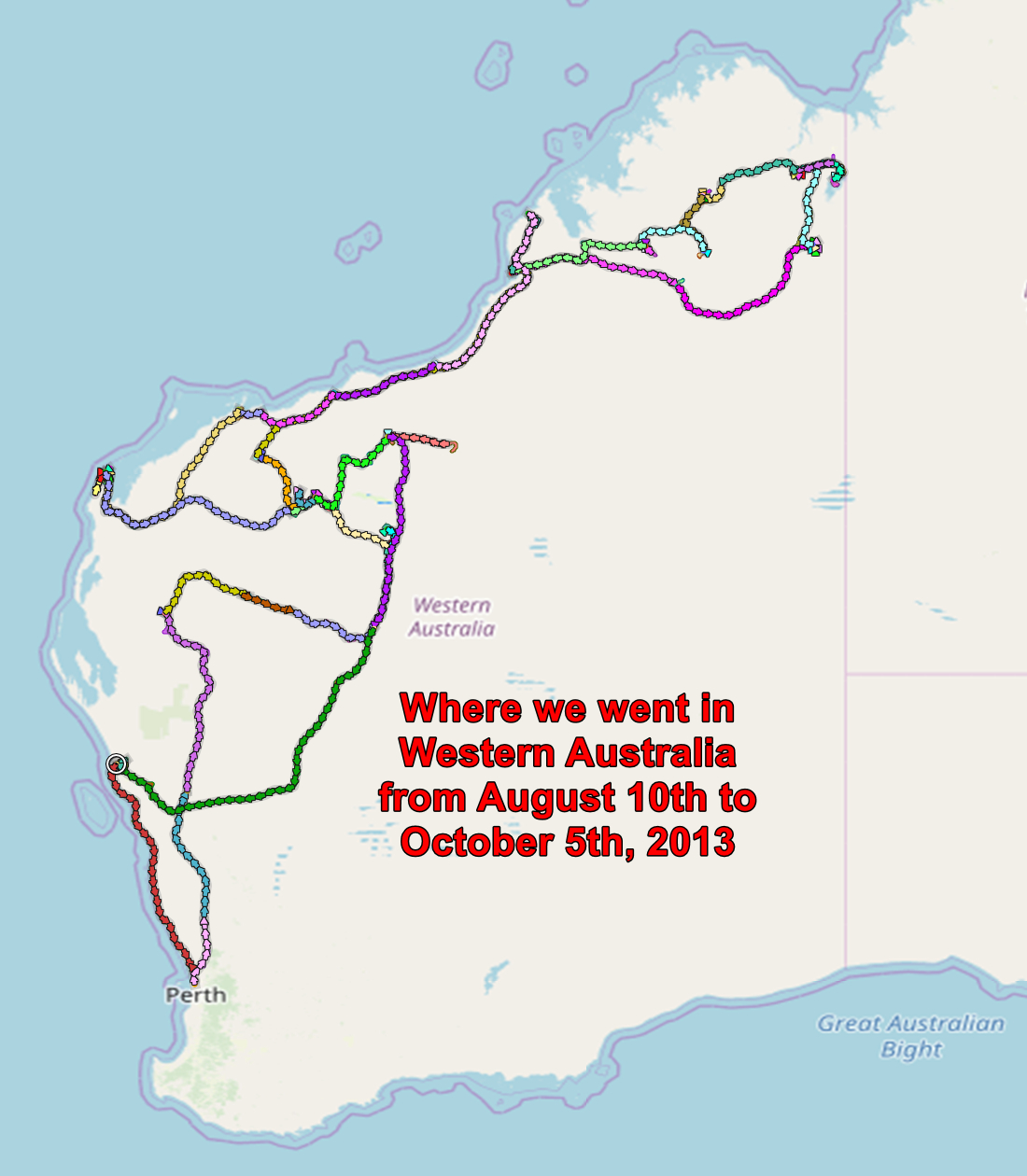 Here is a map of our 13,409 km. Most of the time we camped. Occasionally we stayed in hotels when we felt like it.
Looking at the map I realise how much of  Western Australia we have missed out.
We have seen so much that it is difficult to pick out highlights but the Bungle Bungles and Karajini stand out. And wild camping under the stars.
I have recorded all of our adventures; click the button below to get to the Next Page.

I have made use of many geological maps on this web site. The geological maps, available for the whole of Australia, can be downloaded from HERE. Click on Add Data, then on Geological Maps, then on Scanned 250K Geological Map Index, and finally Add Data to Map. After which you need to choose which map sheet you want, click on it, click on the side arrow then on View/download map image (low resolution) or View/download map image (high resolution). This is a wonderful resource.
I took lots of photos, not all of which are shown on this web site. to see them all go HERE
[slickr-flickr tag=SlickrFlickr]