Friday 23rd August 2013
This was a long day. We got up at 6 AM and did not get out of the truck till 7 PM. And we travelled 903 km! Our route took us past Python Pool, which we visited yesterday, all the way to the North West Coastal Highway, Along this to its junction with the Great Northern Highway and north along this to Broome, stopping off in Port Hedland for fuel.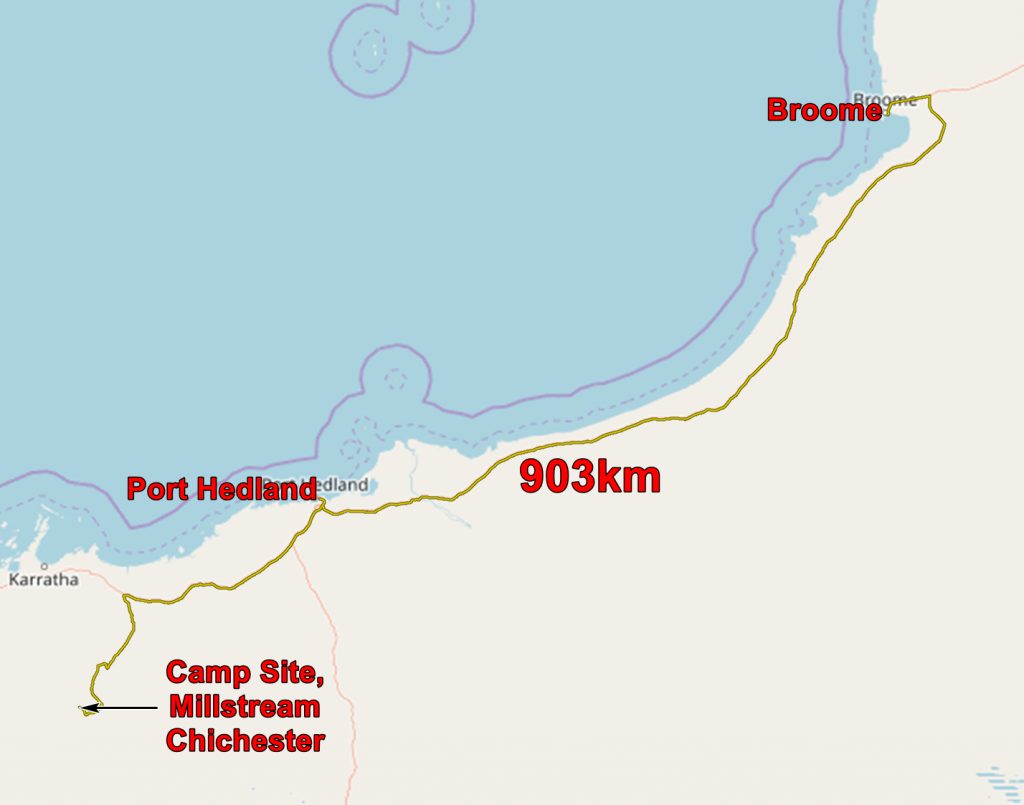 Scenerywise this was not as spectacular a journey as some we took, so not many photographs were taken. However there were some things worth photographing on the road past Python Pool.
Red weathering dolerite and green spinifex. Not far from Python Pool.
The Pyramid from the Roebourne- Witenoom Road
Dolerite capped hills seen from the Roebourne – Witenoom Road
As we drove we discussed where we would stop for the night and eventually decided that we deserved a couple of nights in a hotel and that Broome was the best place for that! Worried about wandering about Broome looking for an empty hotel bed, we phoned the Broome Visitors Centre when we were in Port Hedland and managed to get two nights at the Mercure for only $239 per night!!!
At Port Hedland we refuelled, got some groceries and filled our water container, then continued north. And got caught speeding! Middle of nowhere, very sparse traffic, easy driving and met Constable Higgins of Port Hedland while we were doing 125 kph in a 110 kph zone. He was very sympathetic but implacable. So a $150 fine. If I had an Australian licence I would have three penalty points on it.
So we investigated our cruise control and thereafter all our main road driving was done using it.
We got to Broome about 7 PM, checked into the hotel, had a badly needed shower and had a very nice meal at Matso's  – a brewery with very nice food – highly recommended!
The application below shows you various .kmz files. If you open them with Google Earth you will get our route and the photographs I took, at the spot I took them, displayed in all their glory! Download the file you want, store it somewhere on your computer, open Google Earth and open the file.
[slickr-flickr tag="23-08-13″]