Sunday 25th July 1999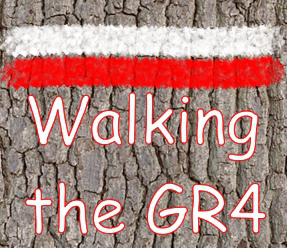 This was the day where we covered the most miles. Except for the walk down to Le Claux it was easy walking. Perhaps the thought of walking back up the next day made the descent more difficult!
There are no photos as my camera broke in Lugarde.
The Diary
and commentary
We got up at the usual time, packed, cleaned the gite and had petit dejeuner at the village bar. Sent A to get 2 pain au chocolat and 1½ litres water from the boulangerie. The water was because I reckoned that we might need it. The day promised to be long, hot and thirsty.

The Limon is a sloping plateau. According to the books it is the slope of the original Cantal volcano.
We were on the road by 9:20. It was still very rural to beyond St. Saturnin – green fields and small scale etc. but after that things opened out onto the wide open spaces of the Limon. A lot of the way was along a newly tarred road but later it was dirt road then across the prairie.

Water can be got at various cattle troughs on the way. It looked pure, tasted pure and I don't think it made me ill. And very welcome it was too!

Navigation was fairly easy although we had to use the compass to confirm direction. – We might have been off in a very wrong direction otherwise. As ever we met our two Frenchmen.

Eventually we got to the Puy de Niermont when we had some fruit. The bestest peach I have ever had! Shortly after this we headed down to the GR400 which we followed (endlessly) to Le Claux. There were no rooms for 2 at the Gite d'Etape (dortoir (dormitory) only) so we went to the hotel (Le Peyre Arse) and got a very nice room. This was about 5:20. We unpacked, showered and did some washing.
We decided to avoid the Burons d'Eylac as we would have reached them very late in the day. If they were full we would have had a dispiriting walk to Le Claux. So we decided safety first and go to Le Claux straight away. Anyway I felt that I deserved a comfortable night!
Also Alasdair did not like the idea of sharing a bedroom with strangers in the gite.
Went down at 7:30, had a large meal which we couldn't finish – too much food! It would have been a very good meal for an Auvergnat shepherd in winter, but was rather too much for people who had only walked 20 miles. However this did not seem to be of much concern to the many trenchermen around the dining room who were emptying their plates.
Le Peyre Arse hotel seems to be closed. The latest reviews are dreadful! – "Old-fashioned hotel, rooms not clean, bad smells, soft upholstery mattresses dating back 30 years, no hot water, fleas in the bedding, no television in the rooms, reception not very friendly, for a 2-star hotel it's unbearable, rooms too expensive 65 euros per night, plus very light breakfast at 9.50 euros too expensive too, the sanitary services should take a look." It was reasonable when we were there and the staff could not have been kinder.
Had a stroll, phoned home, came back and I went down to review Monday's route and have a beer.
Day 1 Day 2 Day 3 Day 4 Day 5 Day 6 Day 7 Day 8 Day 9 Day 10 Day 11 Day 12 Day 13 Day 14
Map of Today's Route