When we woke on Sunday 11th August we found that it was wet! This was the only time in all our travels in Western Australia that this happened. We were in a valley and there was a fog which deposited condensation on everything. But our swags did their job and kept us and our sleeping bags dry.
Breaking camp
We drove 530 km to the Kennedy Ranges National Park. It was another day of getting the miles under our belt but it was not all driving. We had not even got back to the road before we had our first stop. This was to look at the rocks in the bed of the Greenough River. These are granite gneisses, about 3 billion years old, with a very regular foliation, criss-crossed with felsitic and pegmatitic veins, often along faults. Julie loved it as being good illustrations of faulting. You can download a copy of the geological map from HERE.
Simple geology in the bed of the Greenough River
Not so simple geology in the bed of the Greenough River
The 1:250,00- Geological Map of the Yalgoo Area, with some localities and GPS tracks added. Click on the map and you get taken to my photo site from which you can download the map.
We eventually got onto the road which at this point was still tarred but it soon became dirt. In the UK we are not used to gravel roads but in most of WA they are the norm. Assuming they are well looked after and you are not being silly they can be fast and comfortable. Just keep your wits about you and you should be OK.
A typical west Australian dirt road.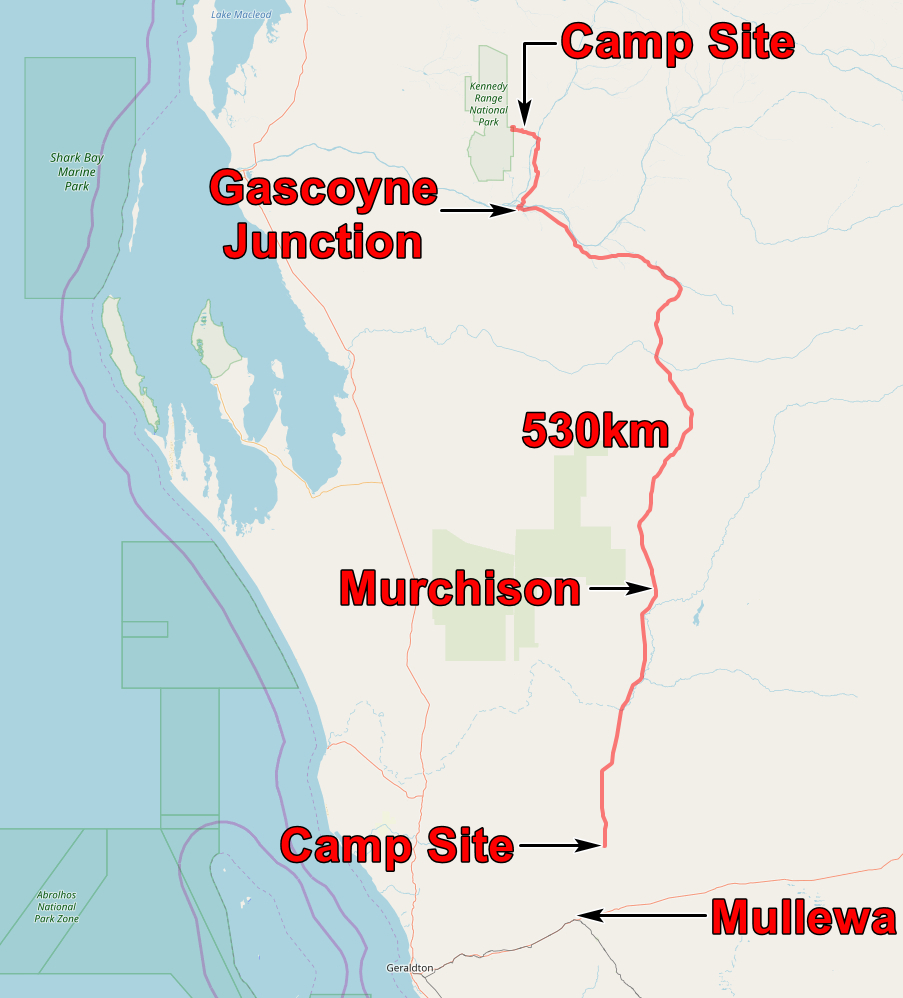 This was a day to cover large distances but we did stop on occasion to look at things, eat and get fuel. One stop was Murchison which seems to consist of a small shop, cafe and filling station. There are a handful of houses and a caravan park. I suppose every vehicle coming along the road stops if only to say hello to the people at the cafe. Over the next few weeks we found that Murchison is typical of many places in the bush.
Murchison
Everlasting flower
Parakeelya flowers at our lunch stop
Parakeelya flowers
We stopped at Gascoyne Crossing for fuel for John's car but it was closed! Fortunately it was not vital but it was a reminder that one shouldn't let your fuel tank get too low.
We pressed on northwards and entered the Kennedy Ranges National Park. The main feature of this park is a steep escarpment of Permian sediments. The prominent cliffs are made of fine grained orange sandstone with a conchoidal fracture; John suggested that they were the result of loess deposits (formed as glaciers retreated) being blown out to sea.
Permian sandstone in Honeycombe Gorge
We walked up Honeycomb Gorge and found that the sandstone had some intriguing forms of weathering – rather artistic!
Honeycombe (or carious) weathering
We looked at the National Park camp site and decided that it looked rather crowded. So we drove out of the park for a few miles and found a camp site a few hundred metres from the road.
---
The application below shows you various .kmz files. If you open them with Google Earth you will get our route and the photographs I took, at the spot I took them, displayed in all their glory! Download the file you want, store it somewhere on your computer, open Google Earth and open the file.

If you don't have Google Earth you can get it HERE.
[slickr-flickr tag="11-08-13″]