2nd to 7th September 2013
On Monday the second we left Lake Argyle and headed for El Questro. You can see our route on the map below. We stopped off in Kununurra for groceries and the internet. We had to move money about. I don't know how we would manage if we did not have internet access. Fortunately there is a very good community internet facility right next to the visitors centre.
We got to the turn – off for El Questro and met a couple who were turning back because the road was too rough for their camper van. but we found it to be an easy drive with a water splash just before the Resort.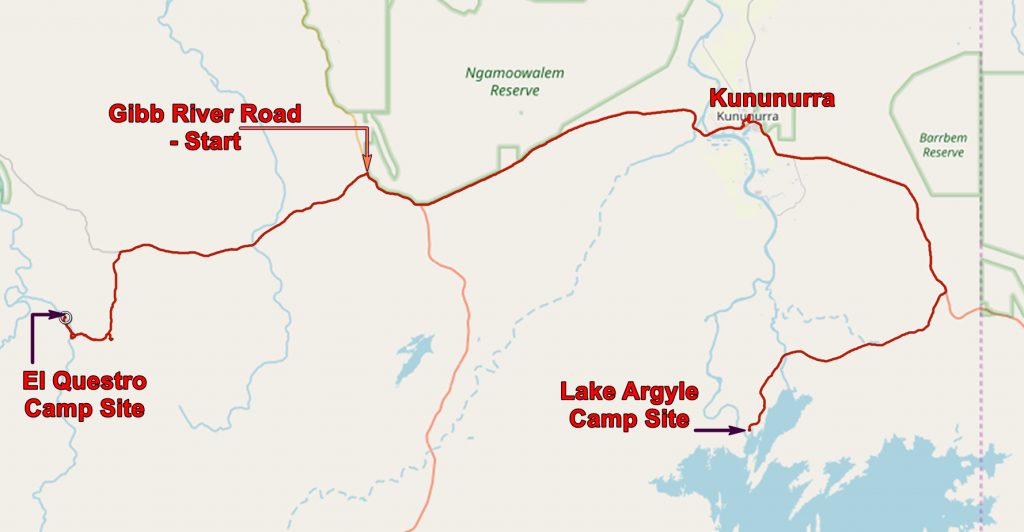 HERE is today's route with photos. Open with Google Earth.
El Questro was a cattle station of a million acres but now describes itself as a Wilderness Park. It still runs 8,000 cattle but is mainly known as a destination for recreation. This ranges from luxury (and very expensive) at the homestead to a caravan and camp site with toilet blocks and camp kitchens. AND there is private riverside camping where for an extra A$8 per day per person you get no water, no toilets and no cooking facilities, but you do get complete privacy. Water and the other niceties of life can be got a few miles along the road at the caravan park.
And that is what we chose and it was worth every extra penny!
Our expensive campsite at El Questro. Note the toilet facilities on the right.
Another view of our camp site
We were right on the bank of the Pentecost River and just across from us was the territory of a wallaby who grew active at dusk. She had a joey but she did not seem perturbed by our presence.
A wallaby with joey just across the Pentecost river from our camp site.
What did we do at El Questro? You could spend a lot of money on helicopter trips or 4×4 expeditions if such took your fancy but we confined ourselves to the free and cheap end of the available attractions and found that they more than satisfied us.
Our first excursion was to Zebedee Springs which brought back memories of "The Magic Roundabout" but which is in fact a spring of warm water which comes to the surface at a fault between two members of the Proterozoic Kimberley Group (c. 1800 MA) – the older King Leopold Sandstone and the younger Pentecost Sandstone.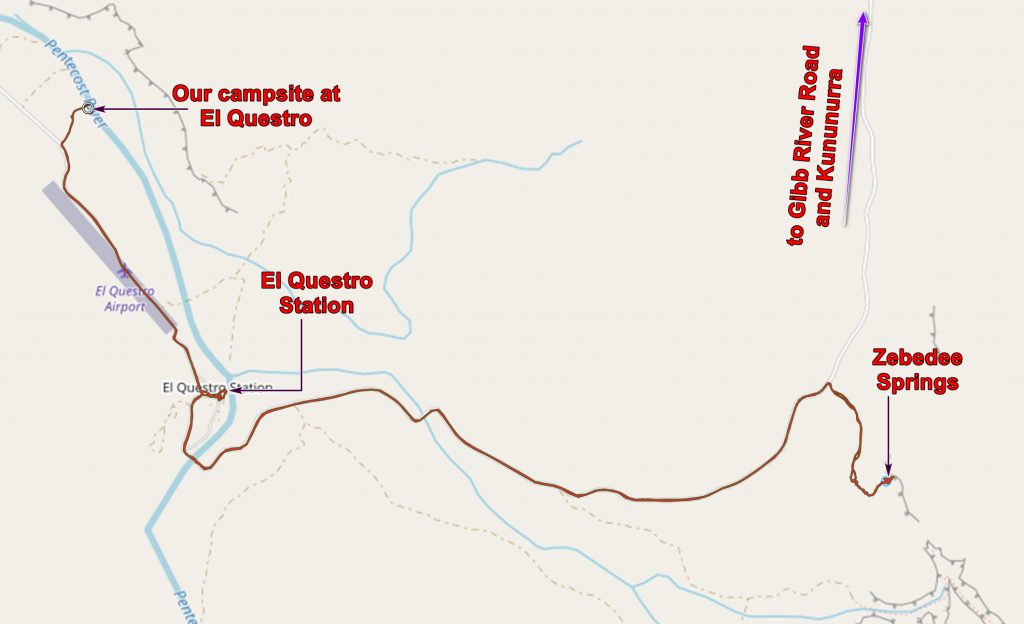 There are rather more Livistonia Palms than there is water.
Livistonia Palms at Zebedee Springs. Spot the water!
It is a pleasant enough place for a brief visit but it soon becomes crowded. The car park is small, perhaps they should make it smaller.
HERE is today's route with photos. Open with Google Earth.
We also went to Emma Gorge which is part of El Questro even if it is a considerable distance away.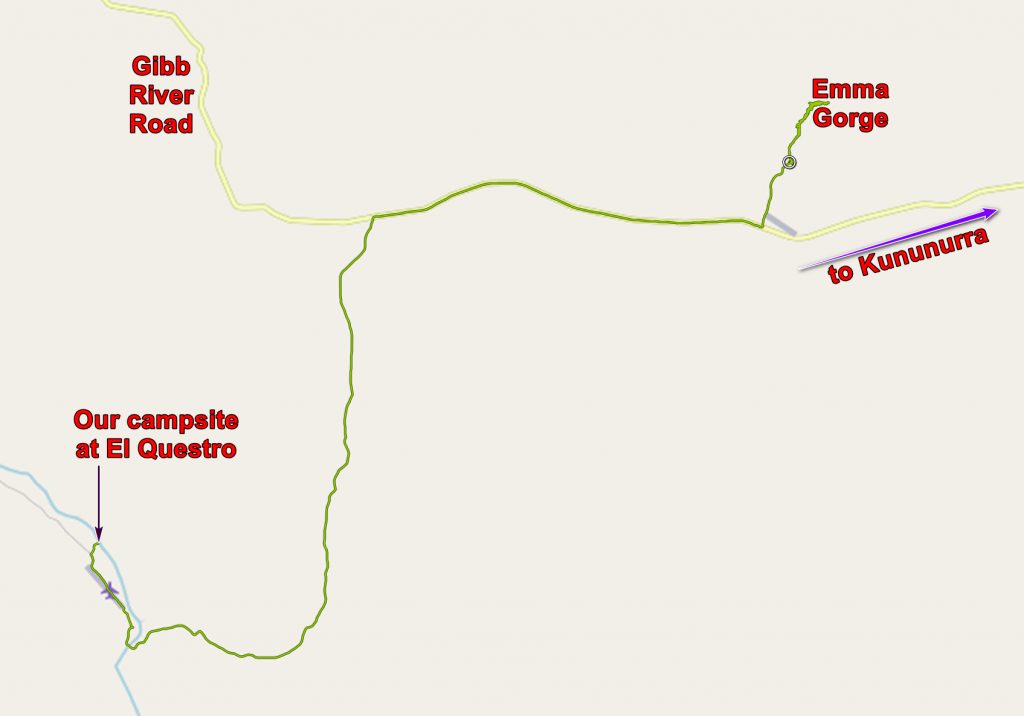 At Emma Gorge there are luxury tented cabins and a very nice restaurant and coffee shop. I can recommend the coffee and cakes after a walk along the gorge.
The gorge becomes quite narrow and a flood a few years ago has covered the path in boulders so progress is slow and tricky. But it is rather beautiful.
Chris near the head of Emma Gorge
At the end of the gorge is a lovely pool in which you can have a cooling swim and, if you go over to the right hand wall, a pleasing warm up where a small hot spring enters the pool!
Chris at the pool at the end of Emma Gorge.
As a geologist I was struck by the many examples of ripple bedding I saw in the gorge. I don't want to clutter this blog with too many photos of what many would consider boring stuff but if you are interested here are some links to the relevant photos on Flickr.
———————————–
Ripple bedding heaven
———————————–
Our next gorge was El Questro Gorge which was not far from our camp site.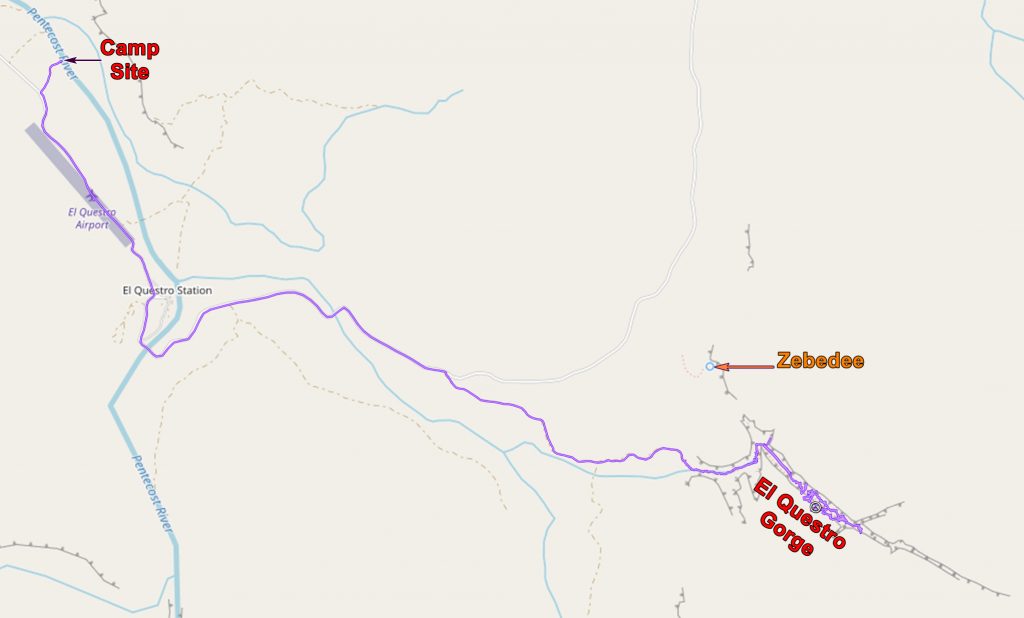 HERE is today's route with photos. Open with Google Earth.
It may not be far but you have to cross a water splash, which to the untutored eye appears hazardous but, with the truck we had, was trivial. It does look rather good though!
Chris driving across a water splash on the way to El Questro Gorge
The Gorge does not have high sides but it is very rugged. The most difficult bit is where a huge boulder almost blocks the gorge. You have to wade across a pool and scramble up the side of the boulder. This is where people with young kids stop. We continued.
The Half-Way Pool. You can get up the left side of the boulder.
Beyond the boulder the way is easier but involves lots of boulder hopping. Eventually one gets to the head of the gorge where there is a pool suitable for cooling off.
Chris in the pool at the head of El Questro Gorge.
Other gorges we visited were Moonshine Gorge and a boat trip in Chamberlain Gorge. None of these is particularly impressive but both give pleasant excursions. On our last full day at El Questro we visited both.
Routes to Moonshine Gorge and the Chamberlain Gorge.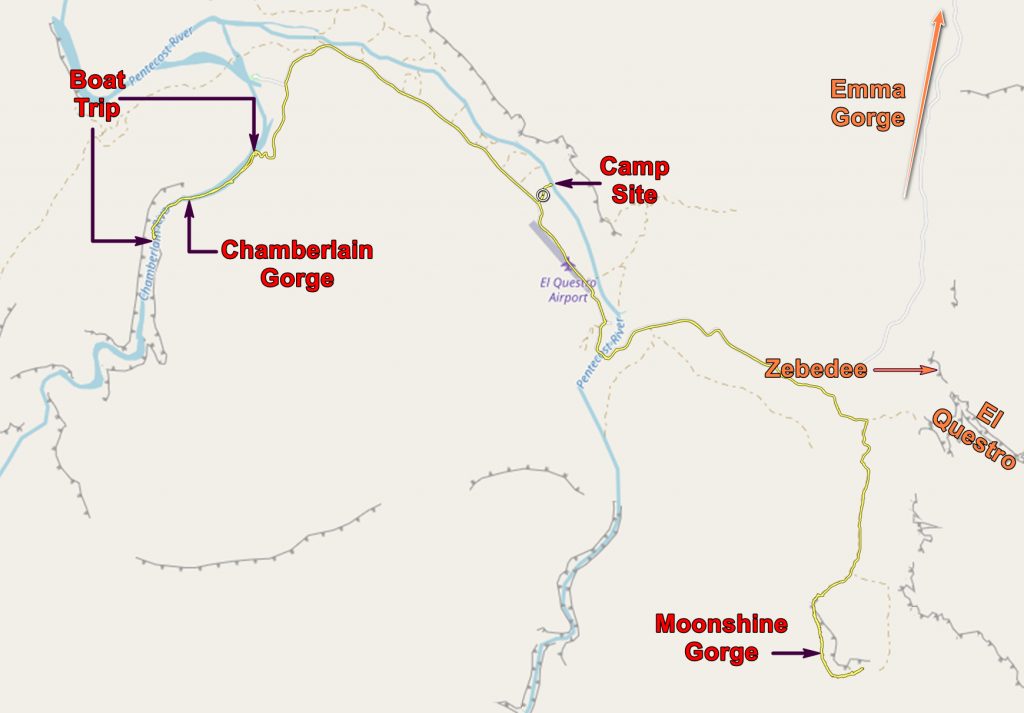 Approaching one of the pools in Moonshine Gorge
In the morning we went to Moonshine Gorge which is quite an open gorge with a creek running along it which, at this time of year, leaves long, linear, pools.
A tree in Moonshine Gorge
The going is very bouldery, many of which seem to be layered gabbro, but the geological map does not show any likely source. The valley has more vegetation than in some of the other gorges.
The pool at the end of the gorge walk is large and a tempting swim hole.
After lunch we drove to the jetty at the Chamberlain Gorge and had the short cruise along the remains of the river. At this time of year you cannot go far – indeed at one point we had to get off and walk along the shore so that the lightened boat could cross some shallows. In summer I suspect the river might be more challenging.
Chamberlain Gorge
The cliffs of Chamberlain Gorge
Compared to the cruise on Lake Argyle this was much less professional but still a lot of fun. No swimming – salt water crocs have been seen in the gorge but we did see fresh water crocs, a turtle, hand caught a barramundi and coaxed several seven spotted archer fish to perform. These fish catch insects by spitting water at them, to down them, while they fly. Fish food acts as a surrogate for the insects and they can spit considerable distances. The best technique is to present the fish food in front of your neighbour so that they get wet rather than yourself.
The next day we set off for Mount Elizabeth.
The application below shows you various .kmz files. If you open them with Google Earth you will get our route and the photographs I took, at the spot I took them, displayed in all their glory! Download the file you want, store it somewhere on your computer, open Google Earth and open the file.
[slickr-flickr tag="Questro"]