– With a 12 year old – in 1999
Faced with the prospect of "looking after" my son for four weeks in July and August 1999 we decided that we will go walking in the Auvergne. Alasdair was a twelve year old just finishing his first year at Bristol Grammar School. I'm Graeme, a 51 year old, retired gold mine geologist, retired North Sea drilling engineer and full time husband and father. We live in Bristol, England, where my wife Christine is a General Practitioner (family doctor). We had arranged a family holiday to Greece, early in the school holidays but troubles with Chris's partners meant that we had to postpone going until mid August. The thought of entertaining Alasdair for 4 weeks inspired me to think of some active alternative.
We had often thought of a hiking holiday but I wanted something a little more exotic than a tour of English Youth Hostels. I had visions of walking in the rain and dining on sausages and beans. Its probably not like that any more but the prospect did not entice. So the idea of somewhere foreign arose. We didn't want to spend more money than necessary and we would like to avoid the rain so somewhere in the southern half of France began to seem the best choice. Being a Eurotunnel shareholder and keen on trains made a cross-Channel journey seem attractive. I'm chairman of WEGA the West of England group of the Geologists' Association and a keen amateur geologist so something with a good geological interest would be nice.
Because of Alasdair's age I didn't want to get too far from civilisation – if we decide to abandon, for whatever reason, we want to be able to get out quickly and easily – so that ruled out the Alps. We did think of the Vercors but that looked too Alpine. Perhaps later when we are more experienced!
———————————————————
In the end we decided to walk from Volvic to St Flour in the Auvergne mainly along the Grande Randonnée 4 – the GR4. This is largely due to finding Alan Castle's "Walks in Volcano Country" in Stanfords. It was produced by the Cicerone Press, but they no longer have it on their list. But you can find it on Amazon and other booksellers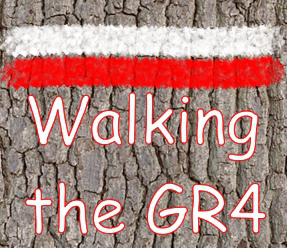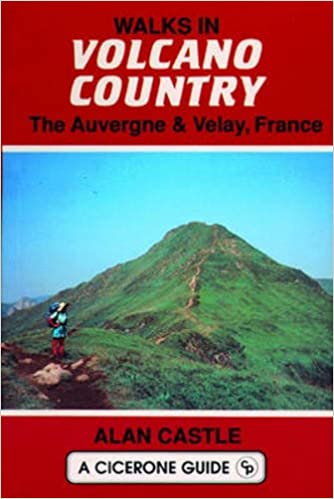 I have always been fascinated by the very recent volcanoes of the Massif Central and this seems like a heaven sent opportunity to see them at first hand. And to have damned good walk at the same time. If we complete the walk we will get to the top of the Puy de Dome (1,464m), one of the top ten sights of France, the Puy de Sancy (1,885m), the highest point of the Massif Central, the peaks of the Cantal (Puy Mary (1,787m), Puy de Peyre Arse (1,806m), Puy Griou (1,694m) and Plomb du Cantal (1,855m). And we will have walked about 120 miles in about 10 days on the road. For some schoolboy reason my son (and I also) find the name Peyre Arse funny; it actually means burnt rock. – Peyre from pierre meaning rock, arse from the same root as arson. Anyway, getting to the top of Puy de Peyre Arse became a GOAL!
———————————————————
The easiest means of describing our plans is to look at the map below. (This is what we intended to do. What we actually did will be shown on the next page.)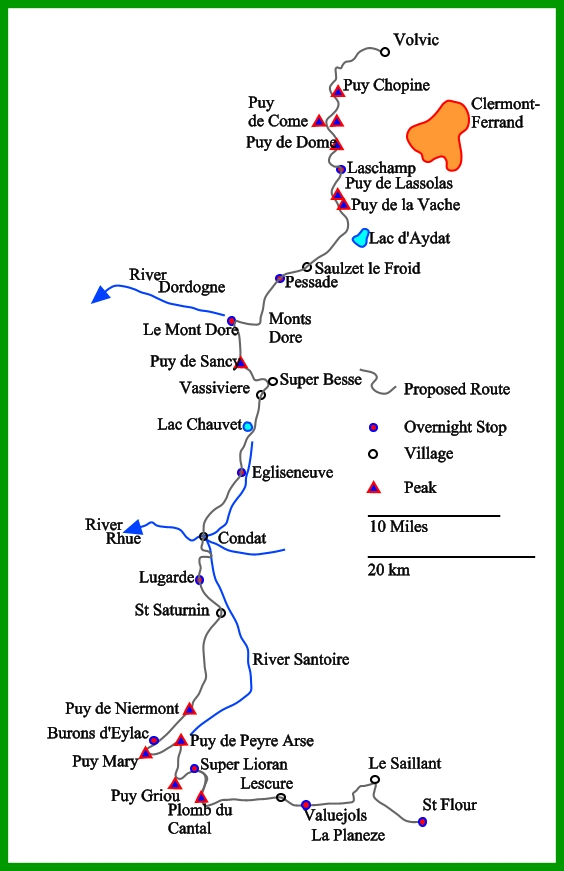 We will be staying at a variety of types of accommodation such as cheap hotels, youth hostels and gites d'etape. We don't know what they will be like but that is the adventure of travel! And we will report on them here when we get back.
Alan Castle suggests how far we should walk each day and that has been our guide in our planning. The only major change from his suggestion is to miss out the overnight stop at Super-Besse. The stage from Le Mont Dore to Egliseneuve will be a long one – 17.3 miles – but we intend to have had a day off in Le Mont Dore before that so we should be fighting fit. (And we could cheat by taking the chairlift to the Puy de Sancy – but we wouldn't do that would we?)
Once in the Auvergne our transport will be our feet, but to get there and back again we will be travelling by rail. We travel from Bristol to Waterloo by Wales and West Rail and then by Eurostar to Paris where we will stay overnight. then French Railways will take us to Clermont-Ferrand. We will stay there and the next day take a local train to Volvic to start the walk. Alternatively we will go to Volvic as soon as we get to Clermont-Ferrand and spend the night there.
Day 1 Day 2 Day 3 Day 4 Day 5 Day 6 Day 7 Day 8 Day 9 Day 10 Day 11 Day 12 Day 13 Day 14