Tuesday 20th August 2013
We got up early and took about 3½ hours to get ourselves ready to go! It was our first time of packing all our stuff on our own and we got a lot better as time went on, but it was a relief to get on the road. From Karijini we drove to the mining town of Tom Price, then to the Millstream – Chichester National Park – a grand total of 281km. The map below shows the route and some places of interest.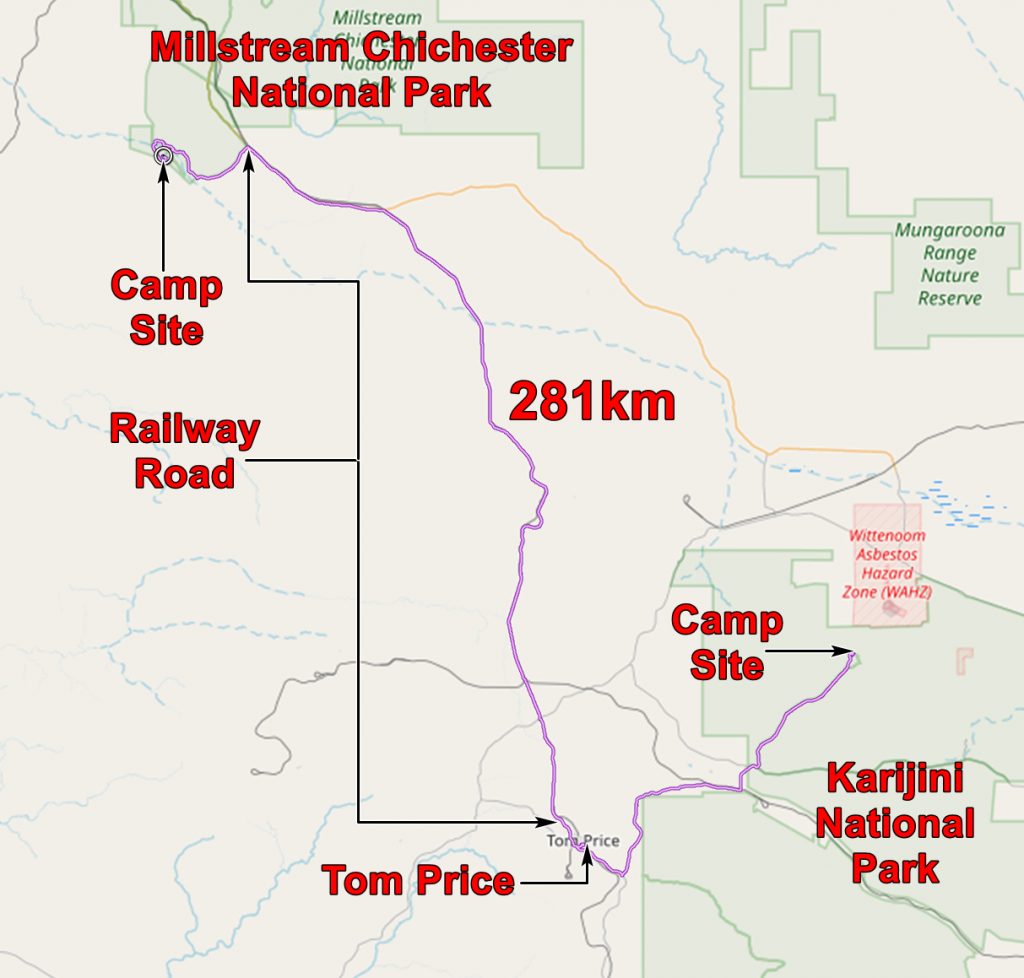 The route took us through typical scenery of the Hamersley Range.
The road to Tom Price, in Karijini National Park
Before long the dirt road became asphalt and we continued to Tom Price. This is a town serving the iron ore mines in the area. Almost all the mines here are owned and run by RTZ. (Similarly the mines near Newman are BHP mines.) We are told it is not a company town, but it is. Almost everybody works for RTZ, or for a company which works for RTZ.
But it is a pleasant enough place, but like many of the more recent towns of WA is very similar to Newman or Kununurra or Port Hedland or Karratha or wherever. But it (and they) served us well and we were able to do our chores of shopping, laundry, fuel etc.
We also got our permit to drive alongside the RTZ railway for part of the rest of our journey. At Newman this is a formality, but not at Tom Price. I suspect that the road is only available to the public against the wishes of RTZ, probably at government insistence. So in order to discourage usage you have to sit through a 20 minute DVD about how to drive on dirt roads. This emphasizes the extreme and imminent danger of this hazardous practice. You are taking your life and that of all other road users into your incompetent hands. They show examples using steep, twisty, undulating, badly maintained roads and then ask whether you REALLY want to do this. Well we did and discovered that the road we drove along was nothing like those shown in the DVD. It is a good dirt road, well maintained and as good as many other dirt roads we had, and would, drive along.
It was a long uneventful drive to Millstream, the only excitement being passing an ore train then waiting for it to pass us so that we could photograph it.
[slickr-flickr tag="Tom Price Railway"]
Eventually we reached Millstream and headed for the Crossing Pool Camp as we had heard that it was the most picturesque – and indeed it was. It was also full – unsurprisingly as there are only nine pitches! So we took the roundabout route to Miliyanha camp passing much of the infrastructure which transports Millstream water to the towns of the coast, such as Dampier.
At Miliyanha we found that informality is the watchword – you find an empty pitch which you fancy and pitch your tent. Some time later the resident, unpaid, wardens stroll over and take your details and money ($A54 for 3 nights) and have a chat. I works very well.
We camped, made ourselves comfortable and cooked our supper. Our headlights, purchased in Tom Price, worked well. Our Primus lamp also worked well, but not while we cooked on the gas stove. The spare gas cylinder we got for the lamp turned out to be empty and we had not thought to have it filled! However we did find out that there is a very good camp kitchen with light and stoves supplied, so we will use that in future.
Full moon from our camp site at Millstream Chichester.
And here is a geological map of Millstream Chichester.
The application below shows you various .kmz files. If you open them with Google Earth you will get our route and the photographs I took, at the spot I took them, displayed in all their glory! Download the file you want, store it somewhere on your computer, open Google Earth and open the file.