Weano Gorge
John and Julie were to go back to Perth this morning but first we had to repack the trucks so that we had all that we needed for the next couple of months. And also know how to use it! So first of all some intensive tent pitching practice – up to now the tent had stayed in its bag, but we would need it if we camped in National Parks. Then there was the task of fitting everything we thought we needed into our truck. We thought a second spare wheel was a very good idea but it took up a great deal of space! But eventually everything was sorted out and we went our separate ways. It was about 1400 km for J & J to get to Perth and they did it with two days driving. Chris and I had a mere 80 km to drive. We called in at the park Visitor Centre and enquired about the Karijini Eco Retreat and confirmed that although it was best known for its luxury camping it did have a normal camp site. So of we drove the 35 km and booked in at what was a very nice place to stay.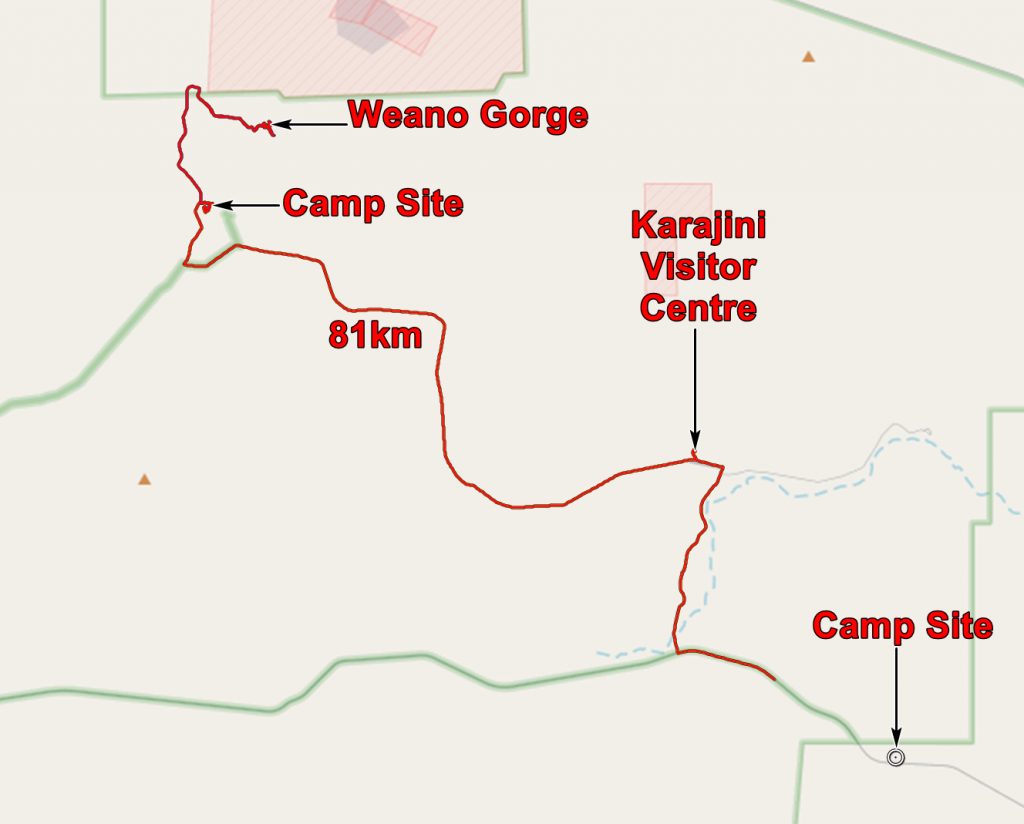 Geological Map of Karijini, with our route on Friday 16th August 2013.
We set up our tent in our designated site and set off for Weano Gorge.
Our camp at Karijini Eco Resort
Weano Gorge, at least in the part we visited, is not very deep but it was a challenge for us for we did not realise that it was normal to wade to get along the gorge! So we found our visit a bit restricted, but still spectacular.
We did not realise that you were expected to wade through the water! But we could still see the red rocks, blue sky and green gum trees.
But even if one did not go wading to see nice scenery. Weano Gorge was particularly good for reflections of the red cliffs in the water.
Red cliffs reflected in the blue water.
And some of the cliffs were very red!
Red cliffs in Weano Gorge.
As the sun went lower the colours grew more intense.
The reflections of the cliffs became more intense as the sun got lower.
And the white gum trees stood out against the red of the cliffs.
White gum tree against a red cliff.
Then it was back to the camp site to cook our supper. And discovered that we could do with some lighting which was compatible with cooking. John had gone off with his head torch and we only had hand held torches. We each could have done with a third hand! Also as it gets dark before 7 PM and lighting is difficult, there is a tendency to go to bed quite early and to get up with the dawn. Oftimes we would be asleep by 9 and up just after 5. Very different from life at home!
The application below shows you various .kmz files. If you open them with Google Earth you will get our route and the photographs I took, at the spot I took them, displayed in all their glory! Download the file you want, store it somewhere on your computer, open Google Earth and open the file.
If you don't have Google Earth you can get it HERE.
[slickr-flickr tag="16-08-13″]