Thursday 3rd to Saturday 5th October 2013
This was a very long day! We drove almost 550 miles and were still 9 miles short of Kalbarri. We set off at 7:15, filled up at Meekatharra, turned off the Great Northern Highway at Mount Magnet, passed through Yalgoo and Mullewa to the North West Coastal Highway and then almost to Kalbarri, getting to the camp site after 5.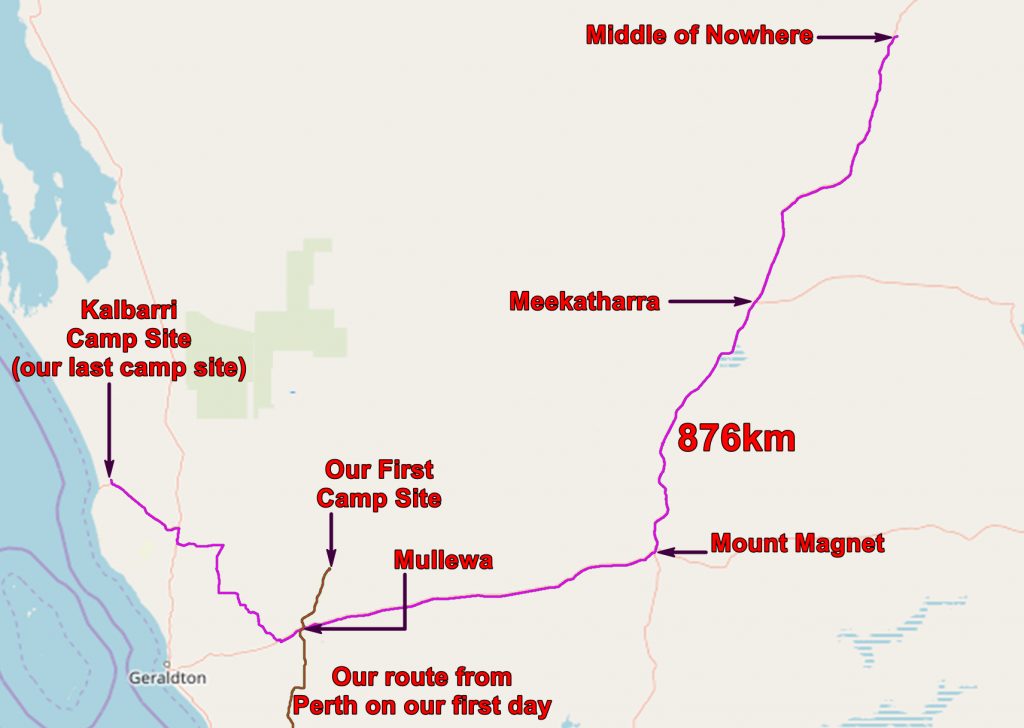 Between Mullewa and the North West Coastal Highway we spotted several blue tongued, fat tailed lizards crossing the road. We managed to avoid squashing any of them but when we stopped to look at them they showed no appreciation and showed us their teeth.
Geological map of the Kalbarri area with our routes and places of interest marked.
We camped at the camp ground at Murchison House Station, on the banks of the Murchison River. This was Chris's favourite camp site but I thought it was too sandy.
View of the Murchison River from our tent.
Friday 4th October 2013
It was obvious that we were getting nearer Perth. All about were more people than we were used to seeing. It was the Perth schools half-term and many of them were taking the break in Kalbarri!
We drove to Nature's Window in Kalbarri National Park. The road crews had mistimed their work and were finishing off extensive roadworks in the park. As a result there were long waits while graders ran along the roads. The visitor facilities at the car park were still being built; the car park was full and there were more people about than I had seen in any National Park!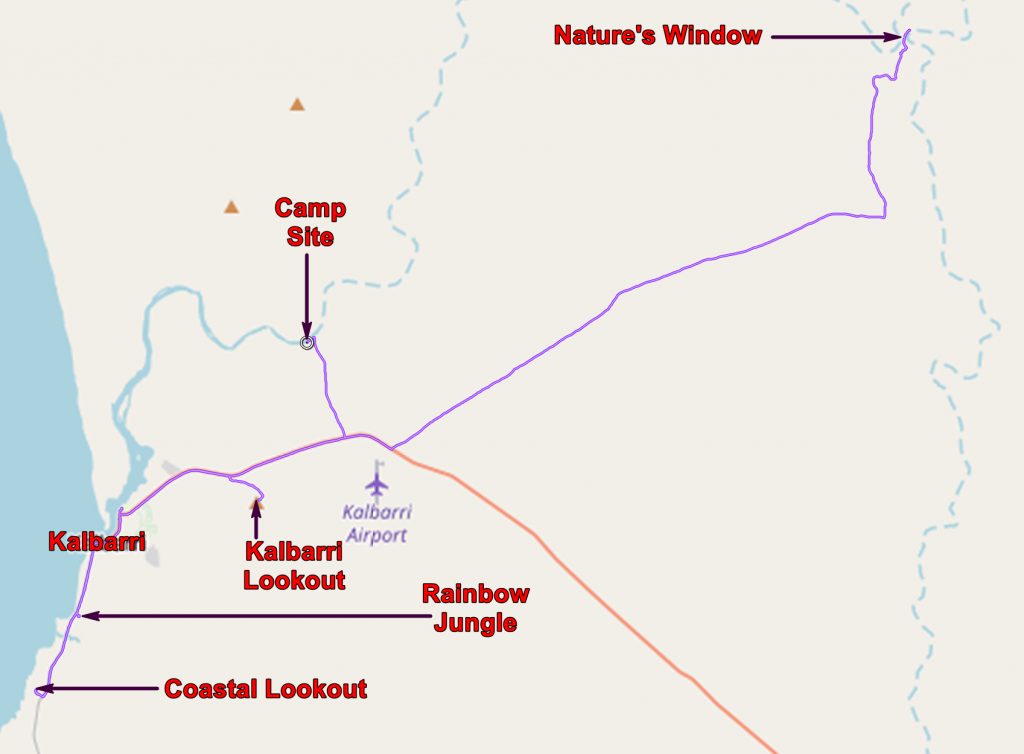 The valley of the Murchison at Nature's Window.
People walking along the ridge at Nature's Window. This ridge is the neck where the Murchison forms a loop.
Most of the people we saw seemed to be families with kids. I suspected that the country around us was as wild as Australia was going to get for them. We felt we were very experienced bush walkers!
Chris and me at Nature's Window
However an advantage of lots of people about was that a nice lady took the picture above! This is Nature's Window which appears on countless postcards in Western Australia.
The Silurian Tumblagooda Sandstone is colourful and rather soft.
Nature's Window is not the only hole in the ridge!
We had intended to go to the Z-bends, also in the park, but the agony of following slow moving cars along the dirt roads decided us to head into town.
View of Kalbarri and the mouth of the Murchison River
We drove up to a lookout to view Kalbarri, took a photo and went into town for lunch. Then southwards along the coast where we called in at a bird sanctuary called Rainbow Jungle. This was rather better than we expected – the birds seemed very well looked after.
Green-winged Macaws at Rainbow Jungle
Then back to camp for supper and a last night under canvas!
Saturday 5th October 2013
It was almost 400 miles back to Perth. It was strange to have to deal with other traffic on the road!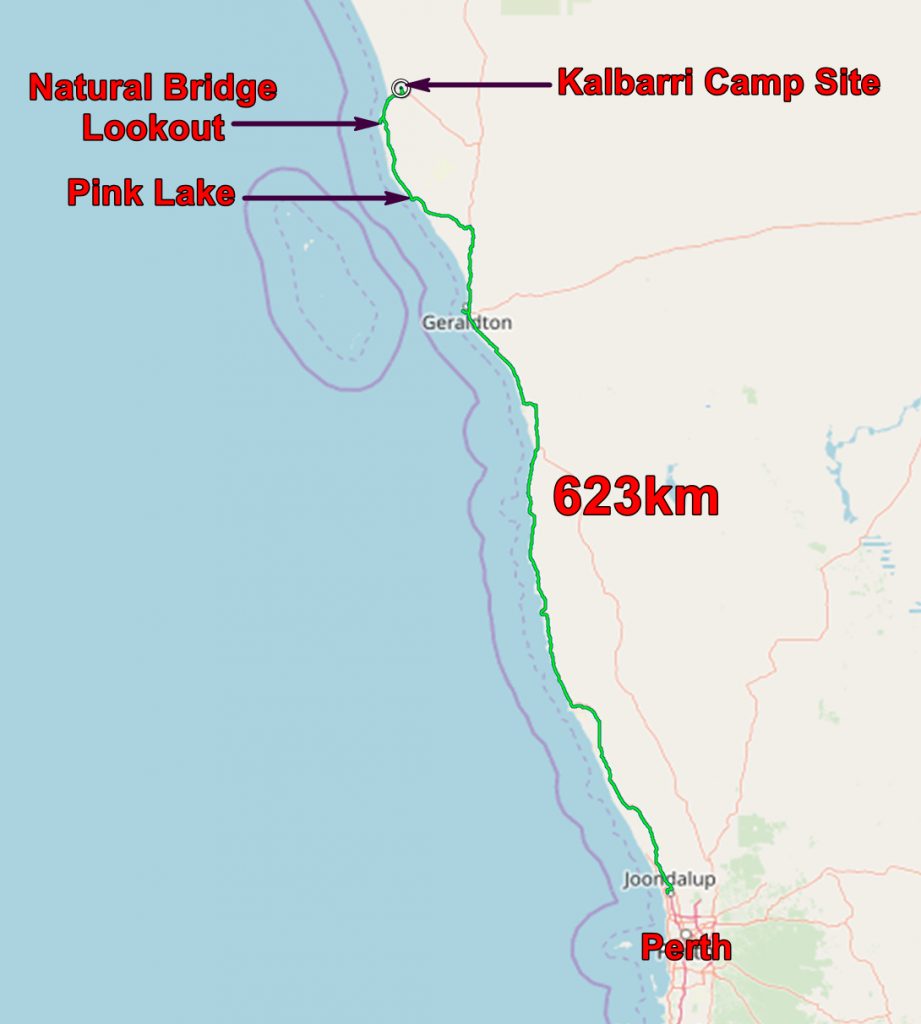 On the outskirts of Kalbarri we looked for whales at Natural Bridge lookout and saw some dolphins, but the cliffs made a better picture.
The Natural Bridge carved in Tumblagooda Sandstone
We continued south stopping to look at the Pink Lake which really was pink! The pinkness is caused by Dunaliella salina and is harvested by drug and cosmetic companies.
The Pink Lake
We pressed on stopping for fuel at Geraldton  and eventually got to Julie's where we got a warm welcome!
We had had a wonderful holiday which continues to live in our memories and still brings a smile to our lips!
---
The application below shows you various .kmz files. If you open them with Google Earth you will get our route and the photographs I took, at the spot I took them, displayed in all their glory! Download the file you want, store it somewhere on your computer, open Google Earth and open the file.
[slickr-flickr tag="Kalbarri"]