Saturday 17th July 1999
If we had been able to do all we had intended It would have been quite an achievement. As it was we achieved quite a lot. And I suspect that at the end of our walk we would have been able to do it. But as it was we were inexperienced about our abilities, we were unfit, we did not take enough water, we did not realise how steep the puys were, the weather was very hot, the route was too long and we set off too late in the day.
But it was a good learning experience, we were never very far from help and it gave us a something against which to measure all we did later.
If I was to do it now, I would start from the Gare de Volvic, I would start earlier, I would take more water and I would be more prepared to change plans according to the circumstances.
The Diary
and commentary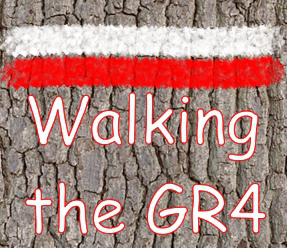 Up at 7:30, did a bit of packing then shopped for lunch (70F). Then breakfast – typical French – baguette, croissant, coffee (chocolat for A). Upstairs for final packing and putting on of boots. Fixed trainers to outside of rucksacks – works very well and saves a lot of space in the rucksacks.
We carried a litre of water each. We should have carried at least twice that. The day was cloudless and very hot.
Paid 220 F cash (160 for room, 60 for breakfast). Set off at 9:20, writing this at 10:20, just below the railway. The GR is easy to follow, very well marked. It would have been nice to have visited the quarrying museum (next to the the Volvic water visitor centre) but we will get there some other day. A is a pleasure to be with – observant and keen. I'm sweating like a pig!
It took us an hour to get back to near where we got off the train the night before.
But things got worse. For a first day walking it was too steep, too long and too hot. Also the packs were too heavy. The country is lovely, lots of good views, which was a compensation – but not much.
The steep climb up the Puy des Gouttes is rewarded by magnificent views of the Puy de Come, and a rather nice quarry. Why should nature be the only thing we can admire?
For the first part of the day we were on the GR441, but after lunch we got onto the GR4 – we would be following it for the rest of the trip.
We almost ran out of water until we found a well at the foot of Le Puy de Dome. This was a real life saver. A almost cracked going up to the top of the Puy de Dome but we managed, by means of persuasion, bullying, reason and carrying his pack, to get him to the top (18:45).
We could also see the site of Vulcania which will be a tourist attraction worth going to when it opens in 2000.
We should have changed our plans at the well and headed down to Orcines. But I did not realise how tired Alasdair was and also I was too wedded to our plan. One should be prepared to be flexible!
At the well I drank about a litre and a half and finished another litre on the way to the top. And I continued drinking water at the hotel. I was dry!
Special Arrangements were required, so at the Tourist Office I managed to get them to phone a taxi to meet us at the péage at the foot of the Puy. We got the shuttle coach (26F) down and met the taxi (19:20) who took us to Laschamp.
The Tourist Office at the top of the Puy de Dome were very helpful – more helpful than they needed to be. Our taxi driver also exceeded our expectations. Our thanks to all concerned.
But the gite was full, as was the hotel. So the taxi driver took us to Orcines (on the outskirts of Clermont Ferrand) where we found a room at the Auberge de la Baraque (20:00). The taxi was 189F and well worth it. We had a quick meal and got to bed. We certainly needed some rest!
The reason accomodation was so difficult was that it was a sunny Saturday and everyone was out enjoying it. And the Chaine des Puys is a very good place to enjoy the great outdoors.
Day 1 Day 2 Day 3 Day 4 Day 5 Day 6 Day 7 Day 8 Day 9 Day 10 Day 11 Day 12 Day 13 Day 14
Map of Todays Route
Right click on the map, choose "Open image in a new tab", click on that and get a supersized version of this map.