Sunday 19th April 2020
written by Alison Ure
Good morning everyone,
I hope you slept well. It's another gloriously sunny day in Turkey with highs of 22 degrees predicted and no clouds this morning. As we will be out on the water too, sunscreen is a must even for those of you who may not normally bother!
Welcome to Kaş and my second home, I've been coming here for 17 years and had a holiday home here for 13 years and it always brings a smile to my face. I hope you enjoyed the view across the bay from the breakfast terrace? It is the formation of this bay by an impact event and the evidence substantiating the hypothesis I have put forward in 3 conference papers, attached, as to that formation, that we are going to look at today.
Kaş is a fishing, market town whose old name is Antiphellos. Phellos is an ancient Lycian site way up in the mountain above you which has a wonderful 360 degree view of the sea and mountains. How the Lycians got the building stones up there is a marvel in itself. Kaş was the harbour to this city. Until the 1970's there was no road to Kaş, it was boat or camel! As we walk down slippery street you'll see the Lion tomb or Kings tomb on your left, photo on the heading page of the handout. There are many types of sarcophagus all over this area, this one was for a high status person.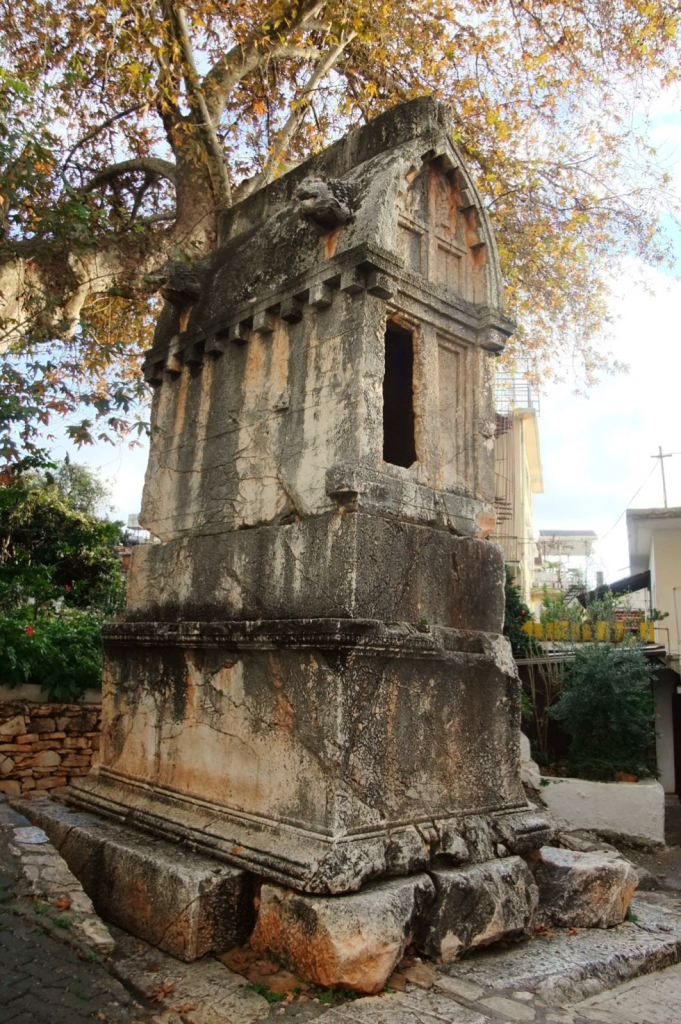 Walking sandals are quite sufficient for today, we are not going 'off piste' but staying on a road. Did you fill up your water bottles at breakfast? if not it might be good idea. Did you remember to bring your euros? if not the restaurants will take cards. Does anyone want to take a packed lunch? or are you all happy to have lunch Greek style? I can highly recommend it, the fish is to die for. Ok lets wander down to the ferry. Remember we are technically leaving Asia and going to Europe so this is a major border. That said it is a very relaxed border but I wouldn't like to test the border guards unnecessarily, if you know what I mean!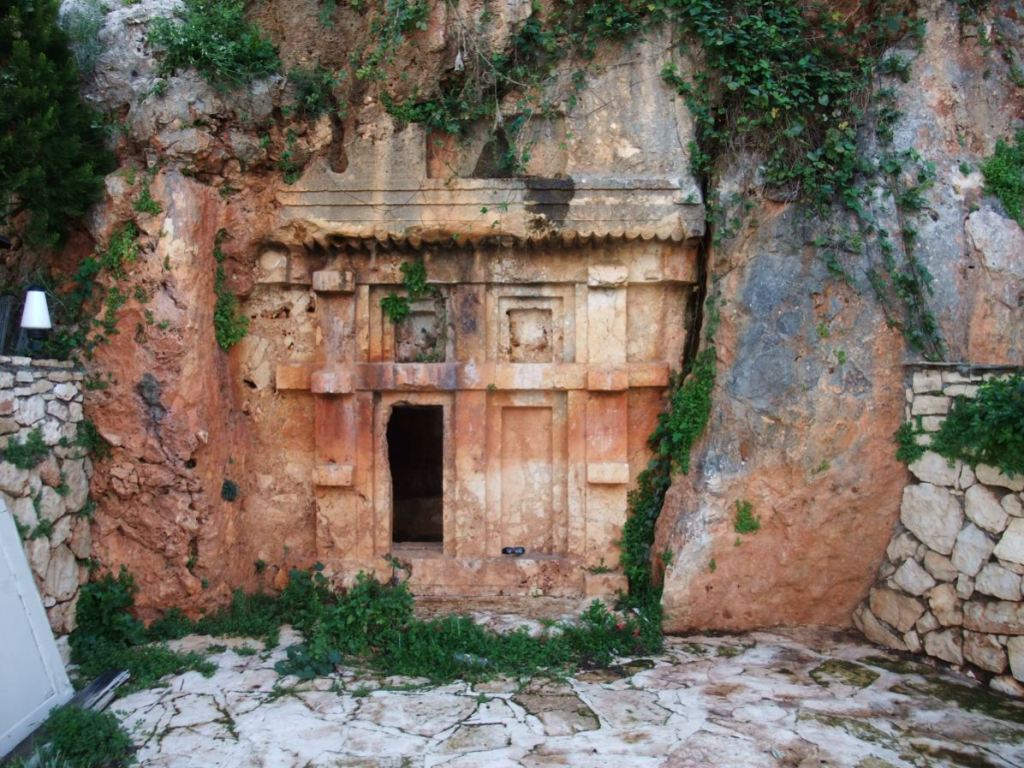 On our way down we'll take a look at the Lycian tomb you saw in the lecture notes last night, more photos attached, also in your hand out. This is close to the harbour and behind a restaurant. Just beyond where the ferry leaves from, we'll also look at some breccia in breccia, the photo in the handout is that particular specimen, so you can get your eye in.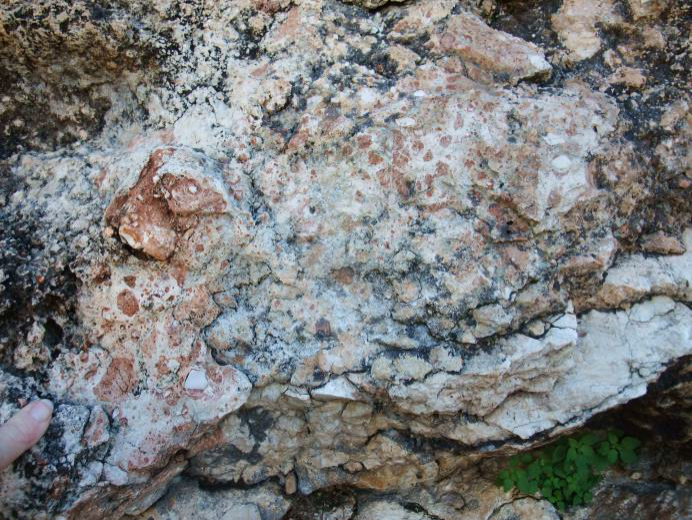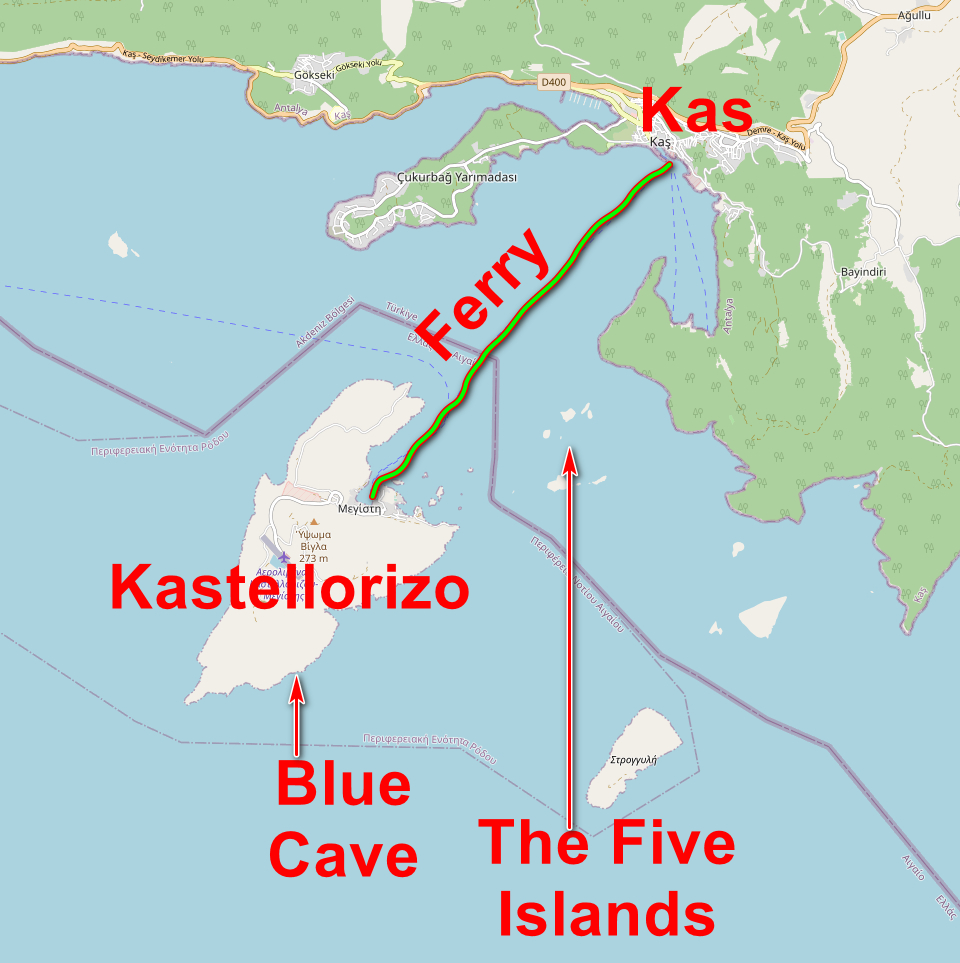 The Greek island of Kastellorizo is our destination today. It is the eastern most island in the Dodecanese group. This island has a very chequered history and has been owned by many countries in the past, including England, and has also been used by pirates. During WWII it belonged to Turkey who were allied with Germany so we bombed it to bits, not something to be proud of. At one time there were around 2000 residents on the island now there are about 500, 200 of which are military personnel. Politically they don't trust the Turks, economically they buy all their fresh produce in Kaş market on a Friday! Strangely many people who left the island went to Australia and to this day there are strong connection between the two countries.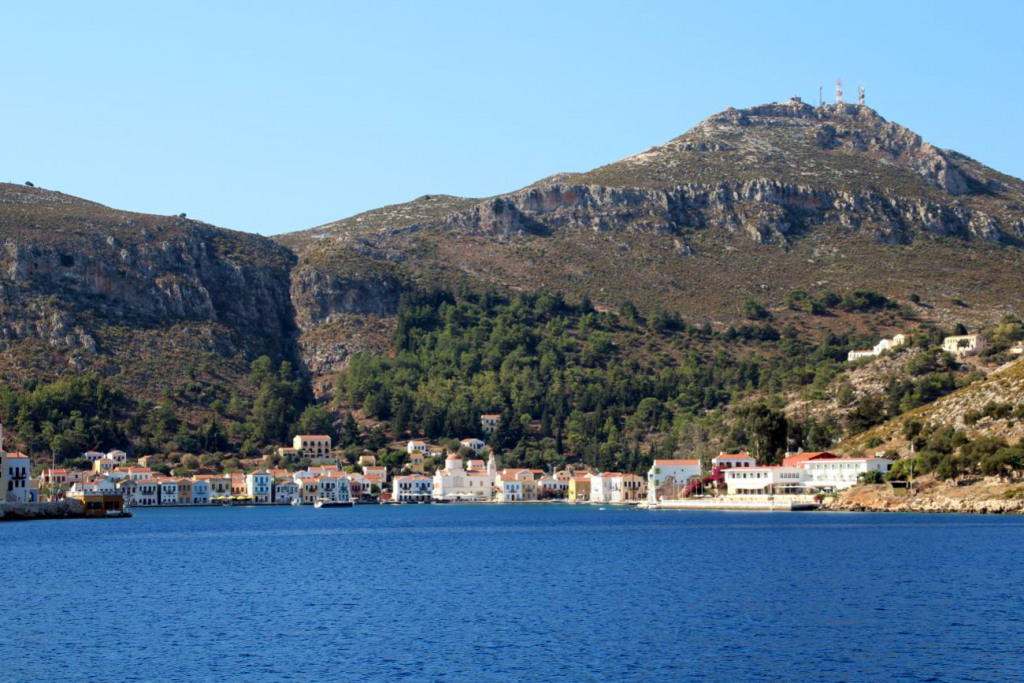 http://visitgreece.gr/en/greek_islands/dodecanese/kastellorizo
https://en.wikipedia.org/wiki/Kastellorizo
The Turkish name for the Island is Meis, which means eye and Kaş means eyebrow. Kaş became an official entry port to Turkey about 10 years ago so you can get to Meis by plane, yes there is a tiny airport on the far side, photos attached, or the twice a week ferry from mainland Greece, and then the daily local ferry back to Kaş. In your handout you can see the ferry from Greece almost filling the island harbour. Prior to this it was just used to renew the 3 month visa stamped in your passport. This meant that periodically Kaş would be awash with Russian prostitutes waiting to go to Meis to renew their visas, much to the delight of the local male population! Now visas are electronic, and last 6 months this practice no longer occurs.
All aboard, let's go. Look out for the turtle that lives in the harbour here in Kaş. If you miss him you'll probably get to see one of the ones living in Meis harbour at lunch time as the tables are set right on the water's edge. The crossing will be about 30 mins and should be pretty flat on the way out but may be choppy on the way back if the onshore breeze picks up. I've got some ginger biscuits in case anyone feels queezy.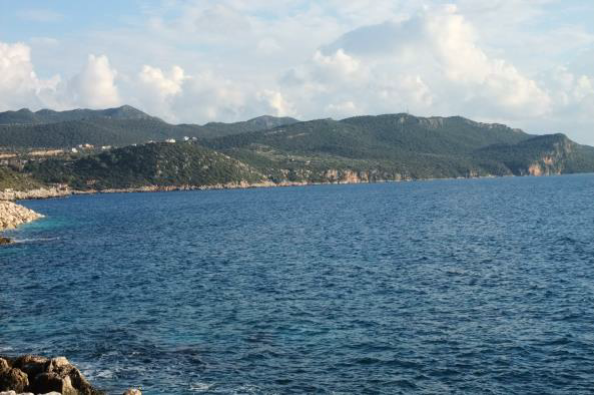 If you look out to your left, port, now you can see the marginal collapse zone, photo in the handout. You can see that the hills looked stepped in quite even steps. They are all tilted down towards the north but that's later tectonics. If you look to the right now, starboard, you'll see the peninsula curving round towards the island, first slide of last night's lecture shows the Google map view of the bay. That's where my apartment was. I believe the peninsula is the crater edge which makes this impact structure about 8 km in diameter, maybe up to 10 km. The size of the meteorite will have been around 450/500 m in diameter and the energy released around the equivalent in TNT to 11000 MT. Hiroshima was 20 KT, it would have been a big bang!! Now look over the port side again and you can see 5 islands. Actually there are 7 but who's counting! This is the top of the central peak which is approximately 1 km in diameter, has a dish profile down to 20 m at the top and steep sides to 60/80 m round the side. An inverted underwater cone. The strip of water behind us goes down to 200 m and a few years ago they had the World Free Diving Championships here because it's both deep and sheltered, it also means relatively large cruise ships can dock in the bay. Every year there is an International Open Water Swimming competition for Meis to Kas. I believe this is held in the autumn when the water is warmer.
So now we are arriving at Kastellorizo. There is a passport control to go through and a duty free shop opposite. You can buy there now if you want, and your duty free will be put on the ferry for when we go back. The little cafe beside the 'ferry terminal' serves coffee for anyone who wants one but please be relatively quick. We are on the same time as Turkey so no need to change clocks. The boat leaves at 4 pm and it is now 10.30 am.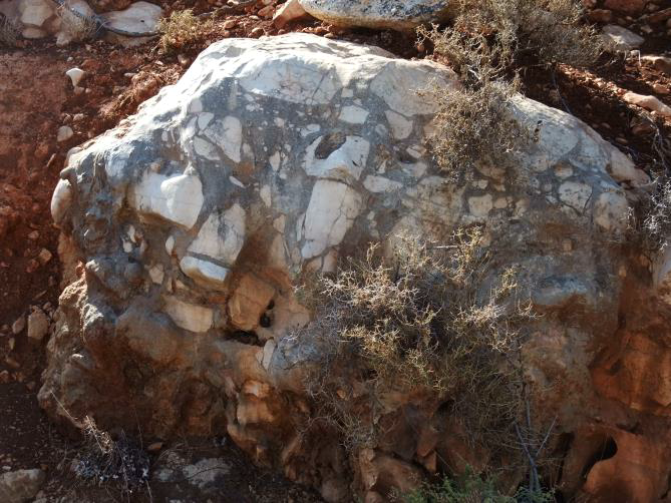 We will walk through the town and out westwards on the only road which goes through the army barracks, please no photos, and onto the airport. It is a gentle climb out, but down hill on the way back. There is a public convenience en route for anyone who needs to use it. When I came to Meis last November my Greek contact was proudly showing me off as the lady who discovered the meteorite crater and my celebrity status meant I got to use the loos for free, normally it's 50 c! We should be back in town around 1 pm for lunch. Take a look at some of the impact breccia you will see on your walk.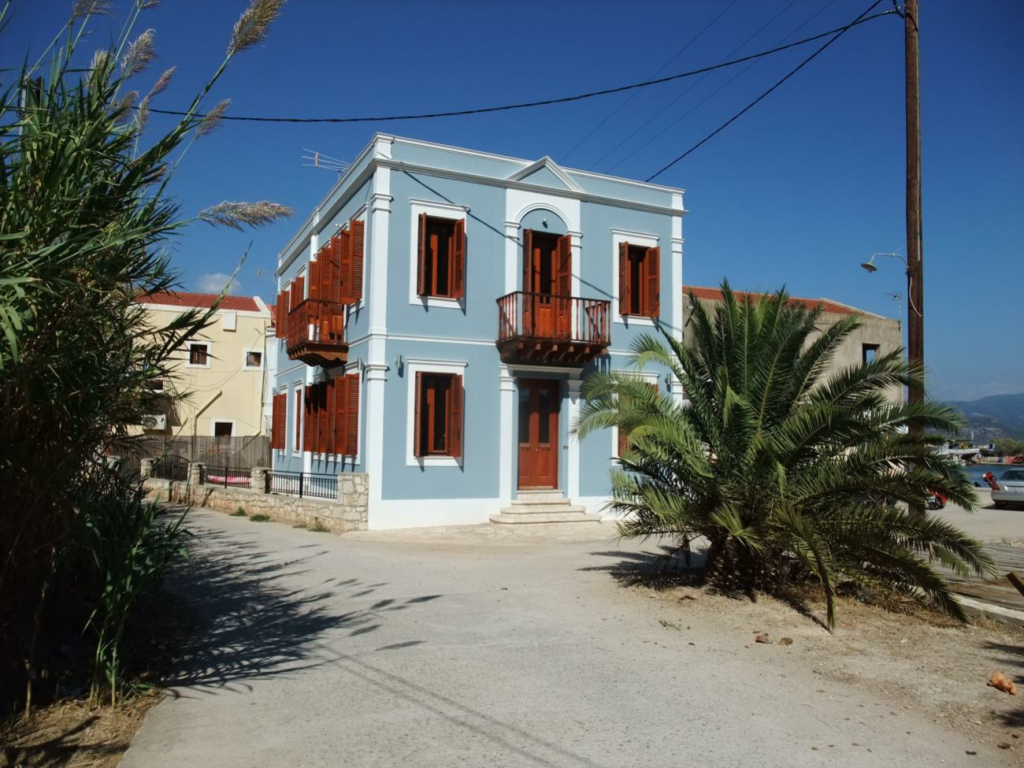 Well that was pleasant but I'm ready for a beer and some freshly cooked calamari or red mullet, both are excellent, other options are available. I recommend Alexandra's. After lunch you can have a wander round the town, there is a castle, a museum and two churches I think, or take a trip to the blue cave, photo in handout. I've never actually been there myself so it will be a first for me. We couldn't pre-book this because it is weather dependent but the weather has been kind so the first boat will leave at 2 pm. Remember the ferry leaves at 4pm so we need to be back by the boat at 3.45. The trip to the cave is just under the hour. I know I said previously that all sites should be reccie'd before a visit, but the blue cave is a tourist attraction so is regularly visited. Plus I tend to come here in the winter months to do research when the weather is not so kind.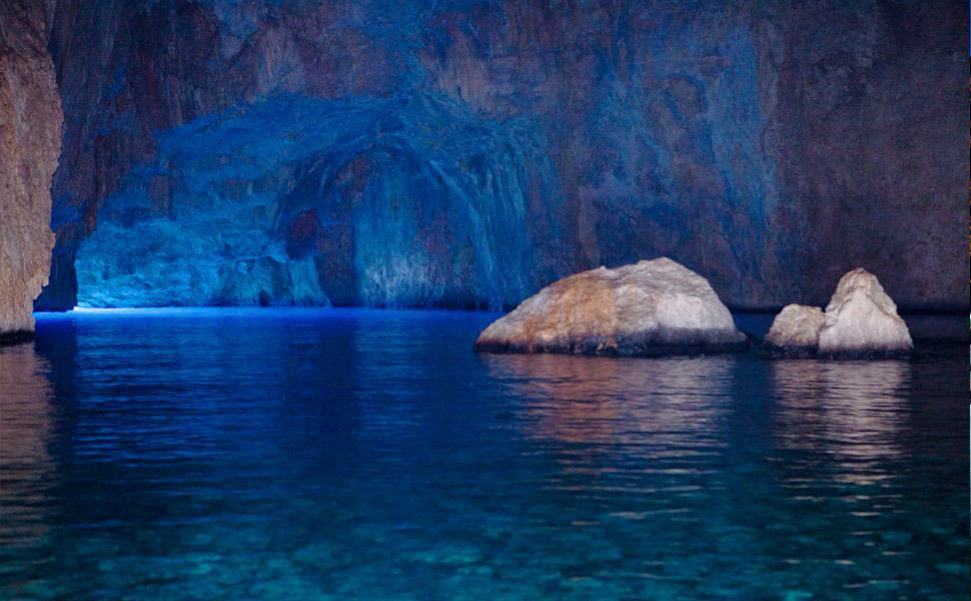 https://www.tripadvisor.co.uk/Restaurants-g189441-zfp5-Kastellorizo_Dodecanese_South_Aegean.html
We were going to meet for a pre-dinner drink tonight in the Hideaway bar, see attached photos, to look at my rock collection, which lives in Kaş, but I thought instead you might like to learn some Turkish words, actually it was Jane's suggestion. There will be a test at the end of the trip!!
I've booked a table at Lola's tonight, we passed it in the square on the way to the boat this morning, for those that want to eat later, it's not compulsory. If not enjoy your evening.
Tomorrow we need to leave a little earlier than today at 8.45. Walking sandals are sufficient for the day.
See you at Lola's later or in the morning.