Tuesday 27th August 2013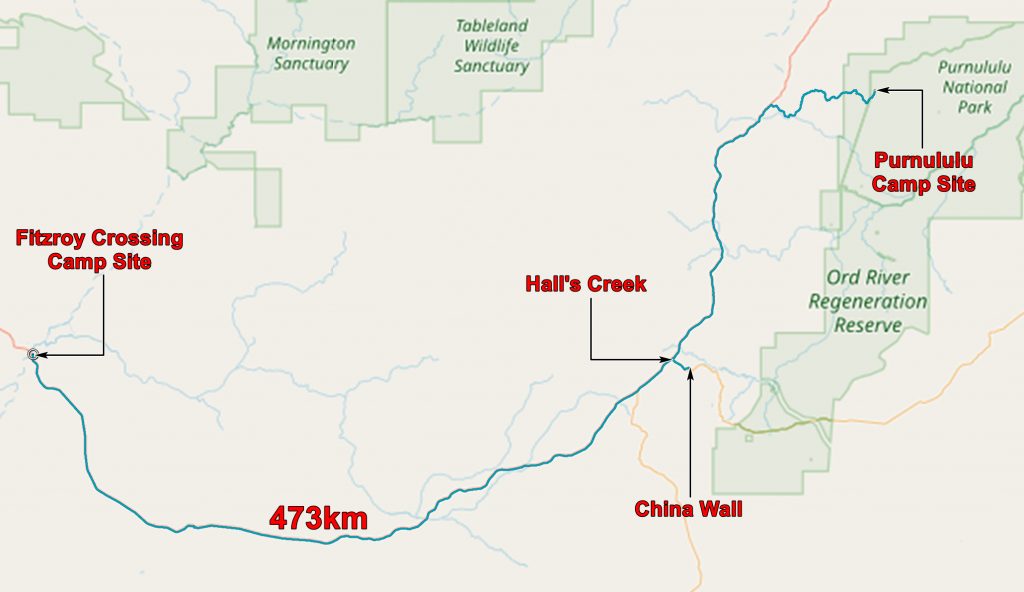 We left Fitzroy Crossing at 8:30 and had an uneventful drive to Halls Creek where we filled up with 98 litres of diesel! There is not a great deal to see in Halls Creek, but a couple of miles outside town on a side road off the highway there is the China Wall.
China Wall, near Halls Creek. Actually a quartz dyke.
Chris on the China Wall
Castellations on the China Wall
I suspect that the person who named it the China Wall had never been to China, and it does not look very much like the Great Wall of China, but it is rather spectacular.
The geology of the area can be glimpsed in the map below.
We returned to the highway and continued north to the turn off for the Bungle Bungles. Its 53 km from the road to the Ranger Station at the entrance to the park and, on our way north we had heard various horror stories about the awful condition of the road. Guide books say that two and a half hours should be allowed for the journey. Chris did it in seventy minutes! Actually the road isn't too bad – at least at the time of year we went in. The main difficulty is sudden changes of direction as you come over a blind crest – shouts of "Where's the Road!" were common. And I suppose the knowledge that it wasn't our vehicle helped.
At the Rangers Station we were advised to go to the northern campground – Kurrajong – as some unfortunate person had poured bleach into the toilets at the southern – Walardi – campground to combat the odour. This had the affect of killing the bacteria and increasing the stink a thousand fold. A "honey wagon" had been commissioned to empty the toilet but it had not arrived as yet.
Kurrajong has camp sites – rather dusty, long drop toilets – not very stinky, and water taps. That is not a lot but it is quite enough.
We set up our tent and, as dusk was approaching, climbed a ridge of Cambrian limestone behind the camp to see the effects of the sunset on the Bungle Bungles. It was rather spectacular.
Sunset on the Bungle bungles from the lookout near our camp
The application below shows you various .kmz files. If you open them with Google Earth you will get our route and the photographs I took, at the spot I took them, displayed in all their glory! Download the file you want, store it somewhere on your computer, open Google Earth and open the file.
[slickr-flickr tag="27-08-13″]