On rising we set off back towards Newman so that Chris and I could get enough provisions for our first period on our own. But driving along the railway line we saw an ore train and took the opportunity to photograph it.
Typically these trains are 2.63km long, have 248 wagons each carrying 126 tonnes of ore. That adds up to 31,000 tons per train.
Ore train
Usually there are eight trains per day, so a quarter million tonnes are transported every day. It takes 8 hours to cover the 426km to Port Hedland. Later, after our time in Karijini, we drove along the very similar Mount Tom Price to Dampier Railway, operated by RTZ (Rio Tinto Zinc). Iron ore is BIG in Western Australia.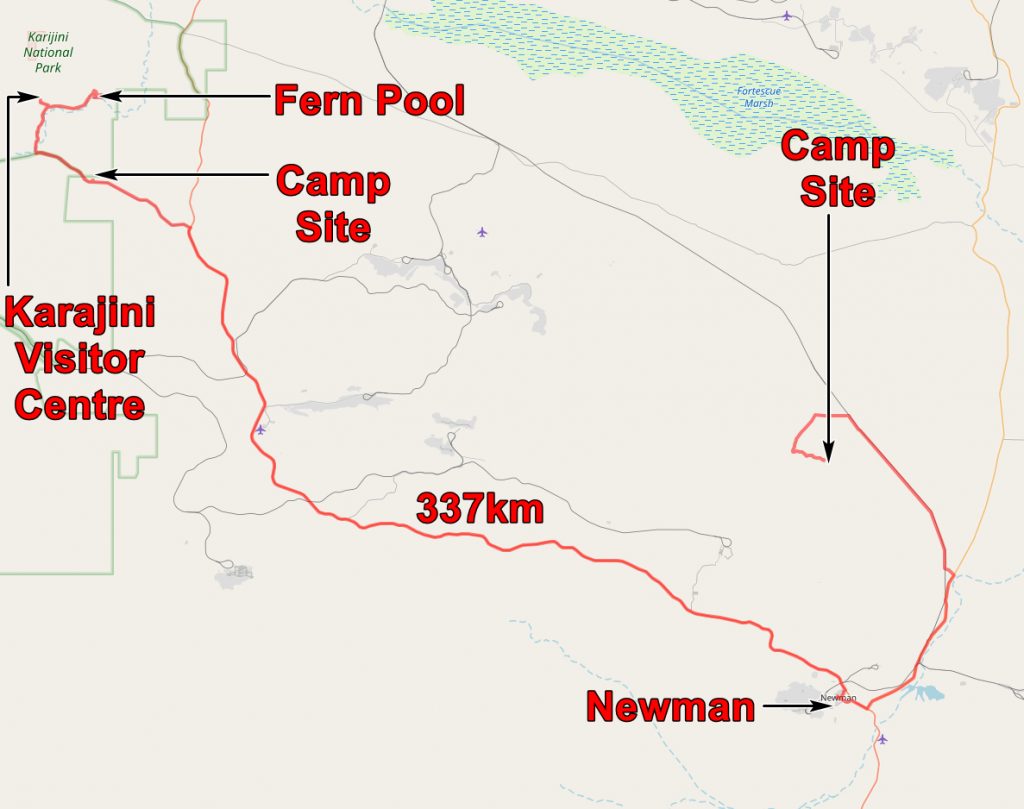 We did our shopping and set off for Karijini along the Great Northern Highway. As we approached Karijini we looked out for potential camp sites and spotted a candidate a few miles from the camp boundary. We checked it out by having lunch there and gave it a somewhat reluctant thumbs up – it was not far from the road.
View of the Hamersley Ranges from our lunch spot and camp site. Note the flat lying Banded Iron Formations – BIFs.
After lunch we drove into the park, had a walk round the Visitors Centre, then headed for Dales Gorge. We looked at the Camp Site which, after our experience of wild camping, seemed very crowded! Then had a walk to Dales Gorge and saw our first Karijini gorge. Almost all the rocks we saw were the Brockman Iron Formation, part of the Hamersley Group. They are about 2.5 billion years old and look remarkably well preserved for their great age.
Dales Gorge
Walking along the top of the gorge we soon came to the Fortescue Falls which were actually flowing but not as much as they would in the wet season.
Dales Gorge and the Fortescue Falls.
From the top of the falls one can look along the gorge.
Dales Gorge from the top of the Fortescue Falls. This is a composite of three photos as the contrast between light and shade was too great to be captured in one exposure. The guy in the photo must have moved!
The rocks of the gorge look very straight forward, flat-lying sediments until you look at them more closely. Then they become rather more complex. An article in Wikipedia says:-
The conventional concept is that the banded iron layers were formed in sea water as the result of oxygen being released by photosynthetic cyanobacteria, combining with dissolved iron in Earth's oceans to form insoluble iron oxides, which precipitated out, forming a thin layer on the substrate, which may have been anoxic mud (forming shale and chert). Each band is similar to a varve, to the extent that the banding is assumed to result from cyclic variations in available oxygen.
It is unclear whether these banded ironstone formations were seasonal, followed some feedback oscillation in the ocean's complex system or followed some other cycle.
It is assumed that initially the Earth started out with vast amounts of iron and nickel dissolved in the world's acidic seas. Eventually, as photosynthetic organisms generated oxygen, the available iron in the Earth's oceans was precipitated out as iron oxides.
At a suspected tipping point where the oceans became permanently oxygenated, small variations in oxygen production produced pulses of free oxygen in the surface waters, alternating with pulses of iron oxide deposition.
So wee beasties, polluting their own environment – oxygen wasn't good for them – caused the composition of the sea and the atmosphere to change and rust to deposit on the beds of the oceans. You would not get planning permission for it nowadays! However it enables us to live the life we live – what would we do without iron?
Brockman Iron Formation at Fortescue Falls. This photo is now used to illustrate "Banded iron formation" in Wikipedia!
More Brockman Iron Formation at Fortescue Falls
Roots of a fig tree near Fern Pool
Walking upstream from the falls we came to Fern Pool which is a lovely pool for swimming – I enjoyed it so much that I forgot to take a photo! But here is a photo of people swimming in the pool below the Fortescue Falls.
Swimming in the pool below the Fortescue Falls
By this time it was getting late so we headed back to our lunch spot and set up our last camp together. Tomorrow John and Julie would be heading back to Perth while Chris and I would be on our own!
Geological Map of today's travels.
---
The application below shows you various .kmz files. If you open them with Google Earth you will get our route and the photographs I took, at the spot I took them, displayed in all their glory! Download the file you want, store it somewhere on your computer, open Google Earth and open the file.
If you don't have Google Earth you can get it HERE.
[slickr-flickr tag="15-08-13″]