Saturday 24th July 1999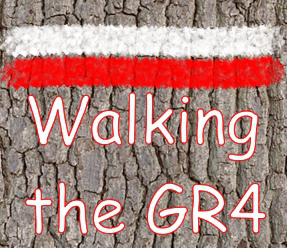 Another day of very pleasant walking. Nothing very spectacular, but nice. So nice, in fact that a year later we hired a cottage near Condat and stayed for a week. There are some details on another page.
The Diary
and commentary
After breakfast, we got some bread etc., packed the bags, paid the bill and were walking at 9:30.
We were not too puritanical about sticking to the GR, although we did keep to it most of the way. But when, as here, we were keen to get as far as possible we would take shortcuts. But generally the GR was as direct as any of the alternatives.
It was a lovely day for walking – blue skies, no clouds but a cool wind especially in the morning. The countryside was good too – woods, fields, heaths.
A couple of miles short of Condat the route has a deviation presumably because of an uncooperative farmer, so we walked along a white road. Then A noticed that another white road, through the hamlet of Coucoule would take us into Condat quicker. So we took it. And got there at 12:30. Bought some nice nectarines on the way through and had lunch at the bridge.

Condat looks a very pleasant town and would be a good place to spend a few days exploring this area.
We decided to go on to Lugarde and set off. The only difficulty was a long 270m ascent through a thick wood – here an altimeter would have been helpful to answer A's cries of "Are we at the top yet?"
We met the two Frenchmen of yesterday. They had stayed at Condat and had had a late start. They were on their way to St Saturnin.
We got to Lugarde at 4 and discovered that the hotel was no more. The railway line stops at Lugarde too – there is a fence across the track. They now run cycle powered trucks along the line. They come from Riom-ès-Montagnes. Looks like fun.
So we stayed at the Gite d'Etape (100F) and found that we had to supply and cook our own food. After a stiffening drink at the local bar, we returned to the boulangerie, (where the gite controller is) and bought various supplies – bread, eggs, biscuits, fruit, wine and sweets for the journey.
The hotel must have closed down relatively recently. The village looks as if it will close down soon, too. It is extremely sleepy. There was a dog asleep on the road outside the pub. A small boy had his remote controlled car making circles round it. The big event of the day (besides our arrival) was when three members of a local football team arrived home in the village with horn blaring to celebrate a victory.

The boulangerie is the only shop in the village. People have to go to other places for everything else (Condat?). One wonders how much longer can it last.
At the gite I did some washing, had a shower and got cooking. We had scrambled eggs on bread with Cantal cheese, side dish of tomatoes, melon to finish. Accompanied with wine and Orangina. Round about this time the camera broke. I don't know why but nothing would make it work.
Alasdair was much impressed with my culinary skills. He got a much better meal than he was expecting. But I don't know what we would have done if there had not been the butter in the fridge.
Then toured the village and had an ice cream, lemonade with cassis sirop and a pastis. And so to bed – no sheets but lots of blankets as we were the only people there.
Day 1 Day 2 Day 3 Day 4 Day 5 Day 6 Day 7 Day 8 Day 9 Day 10 Day 11 Day 12 Day 13 Day 14
Map of Today's Route